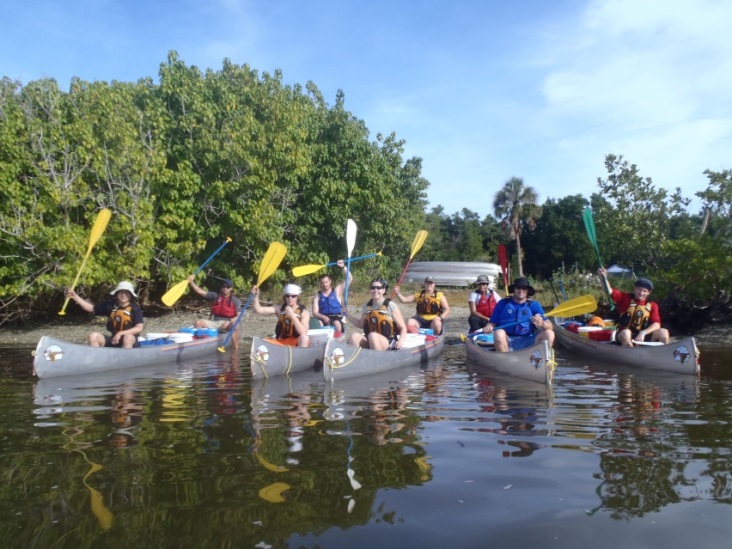 News Release Date:
November 7, 2014
Contact: General Park Information:, 305-242-7700
Contact: Media contacts only: Mary Plumb, 305-242-7017
Contact: Program Manager: Sabrina Diaz, 305-242-7754
HOMESTEAD, Florida:  Anyone who enjoys wilderness will want to attend a special panel discussion being held on Thursday, November 13, 2014, at the Biscayne Bay Campus of Florida International University.  The event is being held from 6:00 – 7:00 p.m. at the Wolfe Theater, located at 3000 NE 151st Street (Room WUC 100), Miami, Florida 33181.  
Being immersed for four weeks in the Marjory Stoneman Douglas Wilderness will be discussed by local journalism and writing students, who were selected to participate in the Everglades Wilderness Writing Expedition. The students will describe slogging, hiking, paddling and backcountry camping in Everglades National Park, which contains the largest designated wilderness area east of the Rocky Mountains.
The panel discussion will focus on the impacts that wilderness can have on young aspiring writers in our community. The students will share the highlights, struggles and life changing moments that occurred during their first experience in wilderness. Additionally, the students will read excerpts of their written work from the program. The panel discussion will be moderated by well-known journalist and writer Bill Maxwell.
The Everglades Wilderness Writing Expedition is a new partnership program designed to connect young writers to our wilderness areas, in honor of the 50th Anniversary of the Wilderness Act. The panel discussion is co-sponsored by Florida International University Society of Professional Journalists and Florida International University Students Organizations Council.
This program has been made possible through generous donations of the National Park Foundation and The South Florida National Parks Trust, and through in kind support from North Carolina Outward Bound School, University of Miami, Florida International University, Florida Atlantic University, the South Dade News Leader and Fairchild Tropical Gardens.
WHAT:       Everglades Wilderness Writing Expedition Panel Discussion
WHEN:      Thursday November 13, 2014, 6:00 – 7:00 p.m.   
WHERE:    Florida International University, Biscayne Bay Campus, Wolfe Theater located at 3000 NE 151st Street ((Room WUC 100), Miami, FL 33181.