Everglades National Park seeks public comment on the Environmental Assessment for updated Fire Management Plan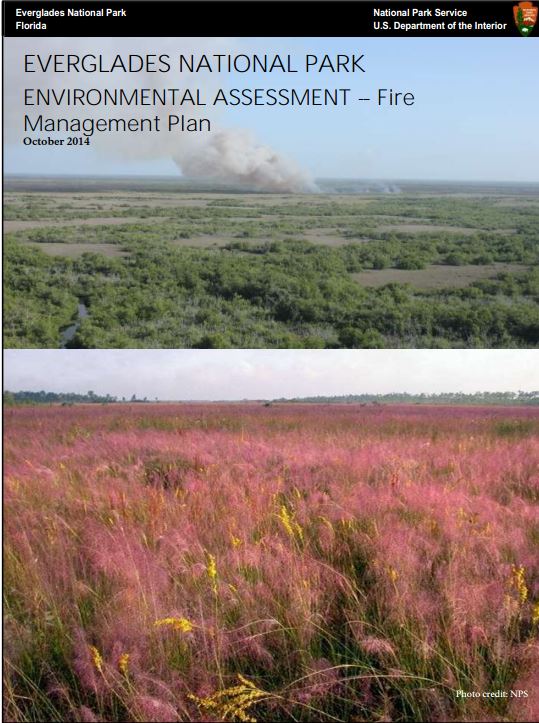 News Release Date:

October 23, 2014

Contact: Linda Friar, 305-242-7714

Contact: Rick Anderson, 305-242-7853

 Everglades National Park is pleased to announce the release of an Environmental Assessment (EA) for an updated Fire Management Plan (FMP). The EA is important because it evaluates the impacts associated with a newly updated Fire Management Plan since policy has changed since the last update in 1995.

 

The 2014 FMP EA evaluates two alternatives for the implementation of a comprehensive fire management program including wildland fire response, fire protection, and fuels management using prescribed fire treatments. The proposed fire management plan supports National Park Service goals to restore fire's natural role in the ecosystem. Both alternatives include the continuation of active wildfire and fuels management within Everglades National Park. The main difference between the alternatives is the manner in which prescribed fire treatments are planned and where they occur.

 

The preferred alternative, Alternative B- updated FMP,  includes a multi-year fuels treatment plan that calls for prescribed fires to be planned and implemented on a multi-year rotation of fuels treatments. Prescribed fires would take place in wilderness and non-wilderness areas. The prescribed fire treatments would be prioritized annually based on public safety and ecological goals.

 

In Alternative A, current management, prescribed fire treatments are planned and approved on an annual basis. Since the 1995 FMP and its associated EA are out of date, prescribed fire treatments are limited to only two types of prescribed fires that are currently authorized under National Environmental Policy Act Categorical Exclusions (CEs). Prescribed fires authorized under CEs include treatments to reduce hazardous fuel build-up and treatments to manage exotic plants.

 

Wildfire response remains unchanged in both alternatives; however Alternative B accommodates advancements in wildlife management and allows for adapting to changes in fire policy and emerging scientific knowledge.

 

Public comment:

The public is encouraged to view the EA and submit comments through the NPS's "Planning, Environment, and Public Comment" website: https://parkplanning.nps.gov/projectHome.cfm?projectID=19541.

Brien Culhane
Planning and Compliance Office
Attn: Fire Management Plan EA
Everglades National Park
40001 State Road 9336
Homestead, FL 33034

 

A limited number of compact disks (CDs) of the FMP EA are available upon request by contacting Everglades National Park at 305-242-7700.

 

All comments must be received or postmarked by November 25, 2014.
For more information or questions, contact Rick Anderson, Fire Management Officer, at 305-242-7853 or e-mail us
- NPS -
Last updated: April 14, 2015