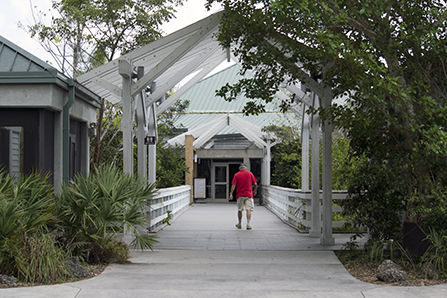 News Release Date:
March 28, 2013
Contact: Program Information: Ryan Meyer, Supervisory Park Ranger, 305-242-7015
Contact: General Park Information: , 305-242-7700
Contact: Media Contacts: Mary Plumb, Public Affairs Officer (Acting), 305-242-7714
HOMESTEAD, Florida: Everglades National Park has extended the deadline for applications to exhibit artwork in the Ernest F. Coe Visitor Center Gallery. The park is especially seeking local amateur artists using a variety of media that focus on the natural and cultural beauty of the Everglades. The park is also interested in highlighting Everglades inspired, student artwork, including K-12 institutions and universities. Each year the application period is open from January 1 to March 31 to apply for the following year. This year the deadline for 2014 has been extended to June 30,2013.
The mission of the Ernest F. Coe Visitor Center Galleryis to educate, enhance and enrich the visitor's understanding and experience of Everglades National Park through quality Everglades' specific exhibits; and to foster a unique opportunity for future generations of park stewards to learn about the Everglades.The gallery is strictly for educational purposes and works of art which are displayed arenot for sale.
"We want visitors to walk away from a gallery exhibit feeling inspired to explore the Everglades, and wanting to help protect this fragile place," said Superintendent Dan Kimball.
To apply, please visit the park website athttps://www.nps.gov/ever/ planyourvisit/coe-visitor- center-monthly-art-exhibit.htm . Artists will be notified of the selections by July 7, 2013.
The Ernest F. Coe Visitor Center is located at 40001 State Road 9336, approximately 10 miles southwest of Florida City. It features award-winning natural history displays, an 18-minute film about Everglades National Park, and related book sales. Visitor center hours are 9:00 a.m. to 5:00 p.m. daily and admission is free. For information and directions to the park call (305) 242-7700. More information on Everglades National Park can be found on the park website athttps://www.nps.gov/ever
About the National Park Service. More than 20,000 National Park Service employees care for America's 395 national parks and work with communities across the nation to help preserve local history and create close-to-home recreational opportunities. Learn more atwww.nps.gov.