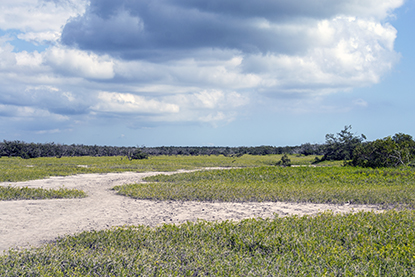 News Release Date:
March 5, 2013
Contact: Debbie Lane, Fee Program Manager, 305-242-7745
Contact: General Park Information, 305-242-7700
Contact: Media Contacts:  Mary Plumb, Public Affairs Officer (Acting), 305-242-7714
Everglades National Park Superintendent Dan Kimball announced today that public comment is requested on proposed fee increases for backcountry camping. The comment period runs through March 15, 2013. 
"We invite everyone to comment on these proposed backcountry camping fee increases," stated Kimball. "Public participation is vital to the National Park Service planning and decision making processes. Everglades National Park is an important landmark in south Florida, and we recognize the importance of obtaining public input in considering increased backcountry camping fees." 
Backcountry fees have not changed since 1996. In 2012, a comparability review with neighboring state and county parks indicated the proposed increase is substantially lower than those collected at similar sites in the area.  
The proposed fee increases include: 1) the per trip backcountry permit fee will increase from $10.00 to $12.00, and 2) the nightly per person backcountry fee will increase from $2.00 to $5.00. 
Other park fees will remain the same, including commercial tour fees, boat launch fees, and park entrance fees.
 A large portion (80 percent) of national park user fees are returned directly to the parks where they are collected. The fees provide direct benefits to park visitors such as improving the condition of facilities, natural and cultural resource preservation, and interpretation of the park's resources.
The public is invited to participate in several ways. Comments can be mailed to: Proposed Fee Increase, Everglades and Dry Tortugas National Parks, 40001 State Road 9336, Homestead, Florida 33034-6733. Comments can also be emailed to: e-mail us, or telefaxed to: 305-242-7716.        
Public comment will be accepted until close of business on March 15, 2013. Following the comment period, a recommendation on the fee increases will be developed and submitted to the National Park Service, Washington Office, for final review and action.
 For more information, contact Everglades National Park Fee Program Manager, Debbie Lane at 305-242-7745 or by email toe-mail us.
 About the National Park Service. More than 20,000 National Park Service employees care for America's 395 national parks and work with communities across the nation to help preserve local history and create close-to-home recreational opportunities. 
Learn more atwww.nps.gov.