Everglades National Park Hosts Photographer Lloyd Goradesky in August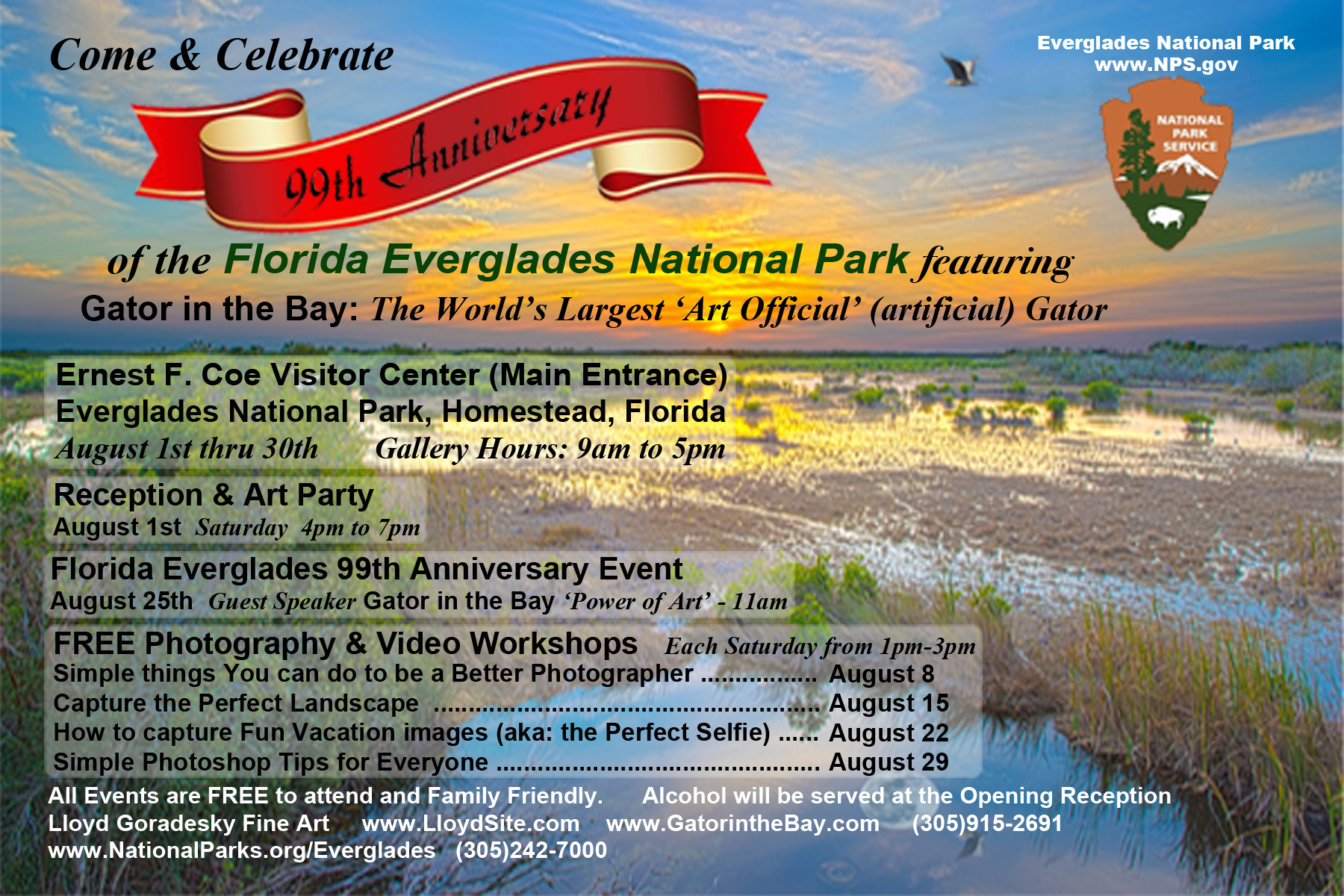 News Release Date:
July 24, 2015
Contact: General Park Information, 305-242-7700
Contact: Linda Friar, 305-242-7714
Contact: Mary Plumb, 305-242-7017
Everglades National Park invites the public to enjoy an art exhibit of "Gator in the Bay: the World's Largest Gator," by artist Lloyd Goradesky at the Ernest F. Coe Visitor Center Gallery during the month of August. An Artist's Reception and Art Party is being held on Saturday, August 1 (between 4 - 7 p.m.). Free photography and video workshops are being held each Saturday (between 1 – 3 p.m.). The Florida Everglades 99th Anniversary Event is being held Tuesday, August 25, beginning at 11 a.m., where the artist will provide a presentation about the "Power of Art." All events are free and family friendly and anyone interested is encouraged to attend.
Goradesky's current project, "Gator in the Bay," is a 33,000 pound alligator the size of a football field that floats. The head is a 3-story steel sculpture built on a self-propelled barge using recycled junkyard materials. The upper jaw, attached to the boom of a crane, opens and closes. The body is a photo mosaic using individual boards (called Floating Art Tiles) with photographs of the Everglades (captured by the artist) which took four years and $1 million to complete.
According to the artist, "The purpose of the project is the raise awareness for the Florida Everglades. The purpose of the art is to show the cooperation that can occur between industry and nature.
Each Floating Art Tile has over 3,000 unique images of the Florida Everglades that are the size of a postage stamp. The entire illusion of the alligator body is created with over 325,000 Everglades images photographed by Goradesky.
Last updated: July 28, 2015