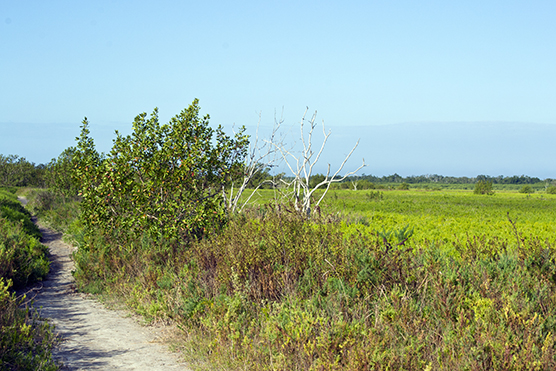 News Release Date:
May 23, 2013
Contact: Kevin Bowles Mohr, 305-242-7752
Contact: General Park Information, 305-242-7700
Contact: Linda Friar, 305-242-7714
 HOMESTEAD, Florida:  All Americans who love natural places are commemorating National Trails Day on June 1, and Everglades National Park's nationally award winning volunteer program is hosting an event. Anyone who would like to participate is encouraged to come be a part of the celebration. National Trails Day encourages all Americans to get outside to experience, appreciate, and celebrate the natural places that provide spectacular scenery, peace of mind, and recreation. Everglades National Park is loved by many for being such a place, and all are invited to join the teams who will trim the popular boardwalk and paved trails along the main park road, starting at Payhayokee and finishing at Royal Palm. 
Volunteers will meet at Ernest F. Coe Visitor Center Parking lot at 9:00 am. The event will end approximately around 2:00 p.m., but volunteers are not required to stay the entire time.  Participants should be prepared for hot and humid weather and are required to wear long-sleeved shirts, boots, and long pants to protect against exposure to sun, biting insects, poisonwood, and ivy. [If volunteers are dressed inappropriately, they will not be able to participate.] 
Everglades National Park will provide all work materials. Please bring a lunch, water, hat, sunglasses, and possibly a change of clothes. Participating volunteers will receive a free entry pass, enabling them to visit again and share this unique national park with their family and friends. 
Directions: The Ernest F. Coe Visitor Center is located at 40001 SR 9336, Homestead, Florida 33034. Volunteers coming from the Miami area and northern destinations should take the Florida Turnpike (Route 821) south until it ends merging with U.S.1 at Florida City. Turn right at the first traffic light onto Palm Drive (State Road 9336/SW 344th St.) and follow the signs to the park. The Ernest F. Coe Visitor Center will be on the right.
Volunteer Program: Everglades National Park's volunteer program has been recognized nationally as a recipient of the Hartzog Park Program Volunteer Service Award.  In the last five years, Everglades National Park's volunteer program has seen a 150 percent increase in volunteers and nearly a growth of 50 percent in contributed hours, due to its strategic planning and focused collaboration. Through collaboration with Biscayne National Park and Big Cypress National Preserve, more than 300 student volunteers contributed more than 5,000 hours in two months. 
In 1970, when Director Hartzog started the National Park Service volunteer program, there were about 300 participants. Last year, more than 257,000 volunteers of all ages, from all over the country, and the world, donated 6.7 million hours of their time to help preserve and protect the national parks they love.
About the National Park Service. More than 20,000 National Park Service employees care for America's 401 national parks and work with communities across the nation to help preserve local history and create close-to-home recreational opportunities.
Learn more at www.nps.gov.