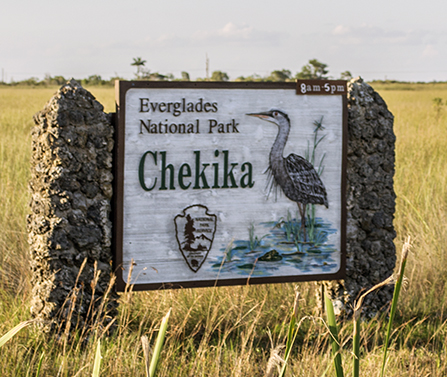 News Release Date:
April 22, 2013
Contact: Kevin Bowles Mohr, (305) 242-7752
Contact: General Park Information, 305-242-7700
Contact: Mary Plumb, Public Affairs Officer (Acting), 305-242-7714
 HOMESTEAD, FL: Everglades National Park's nationally award winning volunteer program is hosting an event in recognition of Arbor Day, on Sunday, April 28, 2013.  The event is being held at the Chekika Day Use Area to protect native trees and their habitat from exotic species of plants. Volunteers will pull up by hand an exotic plant called Syngonium and use loppers to cut back a larger exotic plant, Brazilian pepper.
The tropical environment of south Florida causes common house plants and ornamental landscaping shrubs to become invasive weeds in the Everglades. These weeds outgrow and compete with the natural vegetation for sunlight, water, and space. 
Volunteers will meet in the Chekika parking lot at 9:00 a.m., and are asked to be prepared for hot and humid weather and to please bring a lunch, water bottle, a hat, and sunglasses. Participants are required to wear long-sleeved shirts, sneakers, and long pants to protect against exposure to sun, stinging insects, poisonwood, and ivy.
Participating volunteers will receive a free entry pass, enabling each volunteer to visit Everglades National Park for free again and share this unique national park with their family and friends.
Directions: The Chekika Day Use Area is located at 24200 SW 160th Street, Miami, Florida 33187. It is located about 36 miles from downtown Miami and 18 miles from Homestead. Take the Dolphin Expressway (State Road 836) to the Palmetto Expressway (State Road 826) or the Homestead Extension of Florida's Turnpike. Exit at Kendall Drive (SW 88th Street), and go west to Krome Avenue (SW 177th Avenue). Turn left and go south about five miles to SW 168th Street. Turn right and go west about six miles to 237th Avenue. Turn right and go north about a mile to the entrance of Chekika. 
Volunteer Program: Everglades National Park's volunteer program has been recognized nationally as the recipient of the Hartzog Park Program Volunteer Service Award.  To be eligible to receive this prestigious national award, the nominee must provide service above and beyond required policies. Everglades National Park's volunteer program was recognized for taking several strategic steps to increase public awareness and interest in the Volunteers-in-Park (VIP) program.  In the last five years, Everglades National Park's volunteer program has seen a 150 percent increase in volunteers and nearly a growth of 50 percent in contributed hours, due to its strategic planning and focused collaboration. Through collaboration with Biscayne National Park and Big Cypress National Preserve, more than 300 student volunteers contributed more than 5,000 hours in two months.
According to Everglades National Park Superintendent Dan Kimball, "As a result of the leadership of our park staff and the hard work of dedicated volunteers, our VIP's are indispensable and inseparable from the operations of Everglades National Park. Thanks to the contributions of these private citizens, the national parks are more than America's best idea. They represent America at its best."  
In 1970, when Director Hartzog started the National Park Service volunteer program, there were about 300 participants. Last year, more than 257,000 volunteers of all ages, from all over the country, and the world, donated 6.7 million hours of their time to help preserve and protect the national parks they love.
About the National Park Service. More than 20,000 National Park Service employees care for America's 401 national parks and work with communities across the nation to help preserve local history and create close-to-home recreational opportunities. Learn more at www.nps.gov.