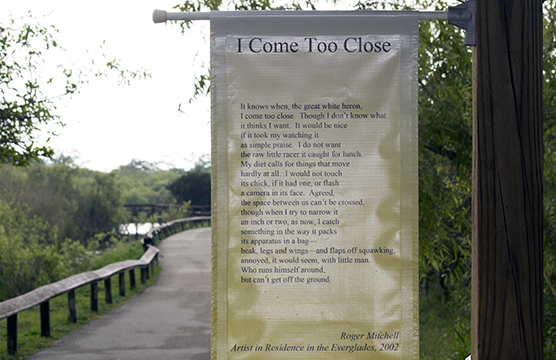 News Release Date:
April 17, 2013
Contact: Kevin Bowles Mohr, 305-242-7752
Contact: General Park Information, 305-242-7700
Contact: Mary Plumb, Public Affairs Officer (Acting), 305-242-7714
 HOMESTEAD, Florida - During the month of April, visitors will see vibrant banners displayed throughout the park featuring the Everglades-inspired poems written by our former Artist-in-Residence-in- Everglades (AIRIE) poets. These brightly-colored banners capture the voices of the Everglades through words and rhythms that commemorate National Poetry Month held each year in April.
"In a park known for its spectacular and diverse wildlife, the art and voices of AIRIE artists reveal other unique, and oftentimes missed, dimensions of this special place," saidDan Kimball, Superintendent of Everglades National Park. "The poetry will share the symphony of the Everglades through the words of AIRIE poets and provide Park visitors with an opportunity to better enjoy and understand the Everglades."
About AIRIE
The Artist-in-Residence-in- Everglades Program allows artists to become immersed in the Everglades wilderness and find inspiration for their art. For more information on the Artist-in-Residence-in- Everglades (AIRIE) Program, visit www.airie.org or call 305-242-7752.
About the National Park Service. More than 20,000 National Park Service employees care for America's 401 national parks and work with communities across the nation to help preserve local history and create close-to-home recreational opportunities. Learn more at www.nps.gov.