Date:
April 15, 2016
Contact:
Allyson Gant, 305-242-7714
Contact:
Mary Plumb, 305-242-7017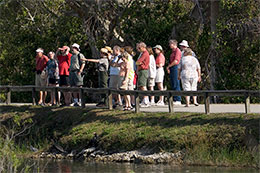 HOMESTEAD/KEY WEST, Fla.: Americans are encouraged to get out and #FindYourPark during National Park Week, which runs April 16 through April 24. All National Park Service entrance fees will be waived for the week.
"With free admission to national parks all week long, National Park Week is the perfect opportunity to check out a new location, revisit one of your favorite parks, or invite a friend who has never visited a park before to join you," said Everglades and Dry Tortugas National Park Superintendent Pedro Ramos. "It's a great time to experience and celebrate our parks and historic places, and discover and share with each other how these treasured places are vital and relevant to people from all backgrounds from all over the country."
To help celebrate National Park Week, parks nationwide are having an InstaMeet on social media on Saturday, April 23 between the hours of 2 to4 p.m. (EDT). Use the #FindYourParkInstaMeet hashtag as well as #FindYourPark and #NPS100. April 24 is Park RxDay, a community health initiative where medical doctors "prescribe" time in parks to promote wellness and help prevent and treat chronic disease. Visit www.FindYourPark.com to learn more about National Park Week activities throughout the country.
Free access is also provided to fourth graders and their families to all Federal public lands in America for a full year, thanks to the "Every Kid in a Park" initiative. Active duty military and citizens with a permanent disability can also get free passes. For more information about the variety of discounted passes available, please visit the America the Beautiful National Parks and Federal Recreational Lands Pass page.
Everglades National Park will waive fees April 16 through April 24 at the main park entrance station near Homestead, and at the entrance station at Shark Valley. The main park entrance is located at 40001 State Road 9336, Homestead, Florida. Shark Valley is located at 36000 SW 8th Street, Miami, Florida (on Highway 41, 25 miles west of the Florida Turnpike). The normal entrance fee is $20 per car. The entrance fee waiver does not include user fees for camping, boat launches, transportation, or special tours. To plan your visit to Everglades National Park visit: https://www.nps.gov/ever/planyourvisit/index.htm
More information is also available by contacting e-mail us, or calling (305) 242-7700 (during regular business hours Monday through Friday, 8:00 a.m. to 4:30 p.m.).
Photo: 
- Everglades National Park, free ranger-guided program. NPS Photo/R. Cammauf
WHAT:          Get out and #FindYourPark during National Park Week. All National Park Service entrance fees will be waived for the week.
WHEN:        Saturday, April 16 through Sunday, April 24
WHERE:      All NPS units that charge an entrance fee, including Everglades and Dry Tortugas National Parks
More information about Everglades and Dry Tortugas National Parks can be found on the park websites:
-NPS-