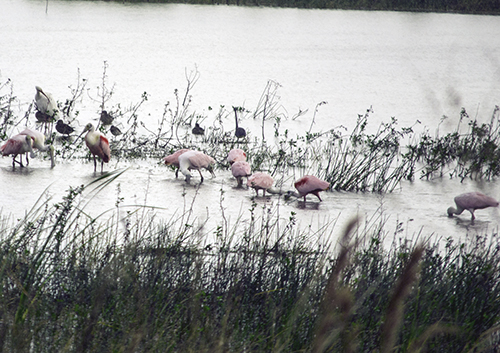 News Release Date:
April 1, 2015
Contact: General Park Information, 305-242-7700
Contact: Lori Oberhofer, Wildlife Biologist, 305-242-7889
Contact: Mary Plumb, Media Contact, 305-242-7017
In a continuing effort to protect nesting Roseate Spoonbills, effective immediately the west side of Palm Key is closed to all access. In order to minimize disturbance and maximize nesting success for the Roseate Spoonbill and other nesting wading birds, a seasonal closure is needed.
Palm Key is located in Florida Bay approximately 2.5 nautical miles southwest of Flamingo. The area within 100 feet of the western edge of Palm Key as marked by buoys will be closed to all entry. Roseate Spoonbills are currently nesting in trees along the western edge of this island. Disturbance from boating activity can flush adult birds off nests leaving eggs and chicks exposed to extreme hot/cold temperatures and predators such as crows or vultures. A seasonal closure will protect birds and nests from disturbance. 
The temporary closure will be removed once biologists determine that the nesting colony is no longer active.