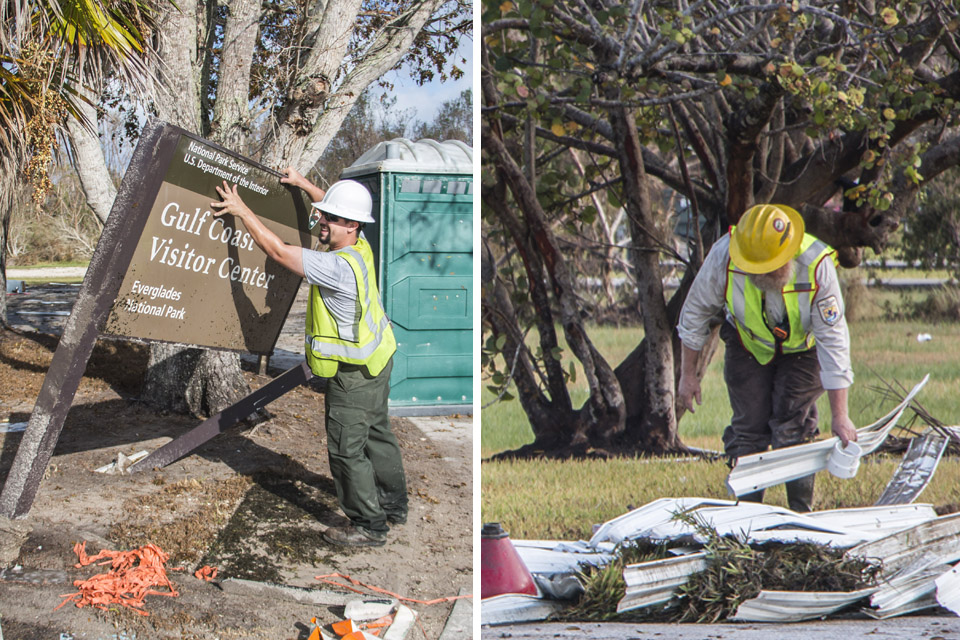 News Release Date:
September 18, 2017
Contact: Brent Everitt, 850-393-7952
Contact: Mike Litterst, 202-306-4166
Contact: Katie Lawhon, 717-253-5776
Homestead, Fla. -
The National Park Service and U.S. Fish and Wildlife Service have partnered at Everglades National Park's Gulf Coast District to clean up after Hurricane Irma. The Gulf Coast District is located on the west side of Florida and is located just 21 miles to the southwest of Marcos Island, where the powerful hurricane made its second continental U.S. landfall. The United States Geological Survey estimated that the storm surge at this area reached 8.78 feet.  
The Central Louisiana Task Force 3 from the U.S. Fish and Wildlife Service Southeast Region were originally deployed to assist USFWS sites in the Florida Keys and were rerouted to Southwest Florida due to logistical issues in the Keys. The National Park Service's Eastern Incident Management Team was made aware of the task force's availability and requested their assistance with cleanup efforts at the national park.  
Crew boss David McCaghren and his team arrived at the Gulf Coast District early on the morning of Friday, September 15, with five pieces of heavy machinery. The team quickly got to work with the park's District Ranger Tom Landimario and Facilities Maintenance employee Victor Garcia Laureiro to begin clearing debris including destroyed equipment, fencing, supplies, A/C units, floating docks, and more. Although there is a long road ahead in the recovery of this district, this Department of the Interior partnership has allowed the park to take a first big step.  
The Gulf Coast District of Everglades National Park is located within the heavily impacted Collier County. The district provides visitor information, maintenance, and law enforcement services, as well as, concessioner operated boat tours, kayak rentals, and gift shop. Assessment crews will be onsite beginning Saturday, September 16  to determine the detailed damage and the cost of any recovery or rebuilding efforts. Many National Park Service employees living in the area are dealing with significant impacts to personal properties.   
The Eastern Incident Management Team is responding to 15 national parks in Florida, Georgia, South Carolina and the Caribbean impacted by Hurricane Irma. Additional closures exist throughout the Southeast Region, but local park employees at those sites are handling cleanup efforts. Updates on the status of these parks can be found at http://go.nps.gov/irma.  
~NPS~