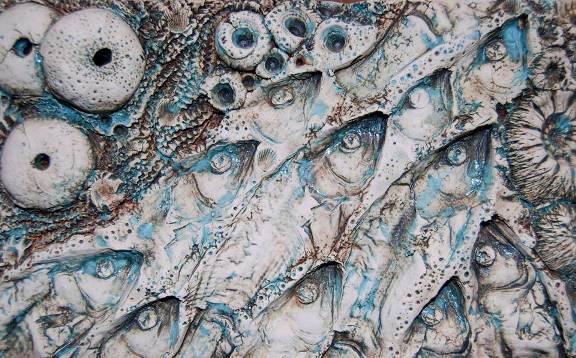 News Release Date:
December 12, 2014
Contact: General Park Information, 305-242-7700
Contact: Media Contact Mary Plumb, 305-242-7017
Contact: Media Contact Linda Friar, 305-242-7714
Everglades National Park invites the public to enjoy an art exhibit by Eileen Powell, entitled "Everglades Impressions." The exhibit will be on display in the Ernest F. Coe Visitor Center Gallery at Everglades National Park during the month of December. The public is also invited to an artist's reception on Sunday, December 14, from 1:00 p.m. to 3:00 p.m.
Eileen Powell's work incorporates ceramics, glass, video, and other media to convey ecological and environmental themes. Specifically her work seeks to create a visual statement regarding the importance nature has to our quality of life and to examine the emotions we feel as our lands, seas, and natural habitats degrade.
According to the artist, "I find nature to be a healing source of energy that allows my body and mind to unwind and calm down. In my work I am creating forms inspired by nature to recreate a feeling or a visual sensation through rhythm, balance, pattern, texture and color. This is my way of celebrating nature."
Eileen's work has been shown in galleries and exhibitions across the United States, including solo exhibitions at the University of New Haven. She was an artist in residence at Everglades National Park in 2012 and draws inspiration from the natural world and her extensive travels. Prior to returning to school, Eileen guided whitewater and sea kayak trips around the world including the Galapagos, Costa Rica, the Caribbean, Everglades, and the Grand Canyon. She is also a former United States Canoe and Kayak Team Member (1986-1992) and alternate for the 1992 Olympics.
WHAT:       Artist's Exhibit in Earnest F. Coe Visitor Center Gallery, by Eileen Powell, entitled, "Everglades Impressions;" and Artist's Reception
WHEN:       Exhibit on display during the month of December, 2014;December 14 Artist's Reception (1:00 –3:00 p.m.)
WHERE:    The Ernest F. Coe Visitor Center Gallery
The Ernest F. Coe Visitor Center is located at 40001 State Road 9336, approximately 10 miles southwest of Homestead. It features award-winning natural history displays, an 18-minute film about Everglades National Park, and related book sales. Center hours are currently 9:00 a.m. to 5:00 p.m. daily, and beginning December 14 will change to 8:00 a.m. to 5:00 p.m. daily. Admission to the visitor center is free. For information and directions to the park call (305) 242-7700.
About the National Park Service: More than 20,000 National Park Service employees care for America's 401 national parks and work with communities across the nation to help preserve local history and create close-to-home recreational opportunities. Learn more atwww.nps.gov.