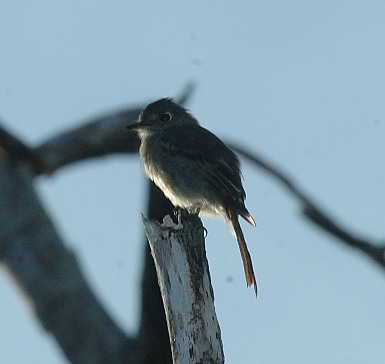 News Release Date:
September 10, 2010
Contact: Linda Friar, 305-242-7714
Contact: Bob Showler, 230-695-3990
Contact: General Park Info , 305-242-7700
Homestead Florida: On the morning of September 5 professional birding guide Larry Manfredi spotted a rare Cuban Pewee near the Long Pine Key Picnic Area in Everglades National Park. As soon as photographs and recordings of the bird's song are reviewed by the Florida Ornithological Society Records Committee, this should be the third confirmed sighting of the Cuban Pewee in the United States, and the first for Everglades National Park.
The bird is creating quite a stir among bird watchers, who have flocked to the park from as far away as West Virginia, Indiana, and California to see it. The bird has been seen repeatedly for several days since the initial sighting, and Manfredi is hopeful that it will remain in the area indefinitely.
The Cuban Pewee, native to Cuba and the Bahamas, is a small member of the flycatcher family. It is recognized by a white crescent behind its eye and its distinctive call, described as "dee-dee-dee-dee…"
Everglades National Park is world-renowned for its diversity of life. Much of the park's wildlife, including raccoons, Bald Eagles, and alligators, come from the temperate north. Some species, such as tropical trees, White-crowned Pigeons, and crocodiles, are from the Caribbean and Central/South America. The Cuban Pewee represents a very rare example of a visitor from the Caribbean.
For more information on finding the bird visit http://www.tropicalaudubon.org/tasboard/index.html or contact Bob Showler, Flamingo District Interpreter, at 239-695-3990.