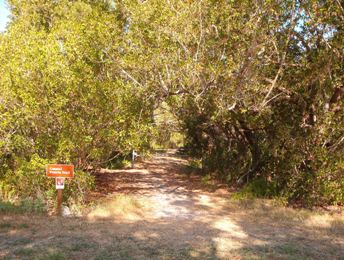 News Release Date:
April 28, 2009
Contact: Linda Friar, 305-242-7714
HOMESTEAD, FLORIDA -- Everglades National Park Superintendent Dan Kimball is pleased to announce the reopening of the popular Coastal Prairie Hiking Trail in the Flamingo area of the park.  This trail was closed due to extensive damage from Hurricanes Wilma and Katrina in 2005.  Due to the challenges of working in a designated wilderness area that limits the type of equipment that can be used, clearing this trail was done by hand and has taken some time. 
This 7.5 mile trail (each way) ends at Clubhouse Beach where visitors who venture down this path will enjoy a spectacular view of Florida Bay.  This hike is a wonderful way to spend time with family or friends exploring and experiencing the wilderness of Everglades National Park.  This coastal trail brings you back in time as you walk this old road once used by cotton pickers and fisherman.  Along this trail a hiker can see and photograph great views of open prairies with succulent coastal plants dotted with shady buttonwoods as you journey towards the trail end.  The trail begins at the rear of the "C" Loop campground in the Flamingo area of the park.  If you plan to cover the entire 15 mile round trip be sure to bring whatever supplies you may need for the day, such as food, water, bug repellant, and sun screen, as there are no services in this remote area of the park. 
The park encourages all visitors to stop in at the local visitor center to learn more about the park through a Park Ranger's local knowledge.  The Flamingo Visitor Center can be reached at 239-695-3990.
-NPS-