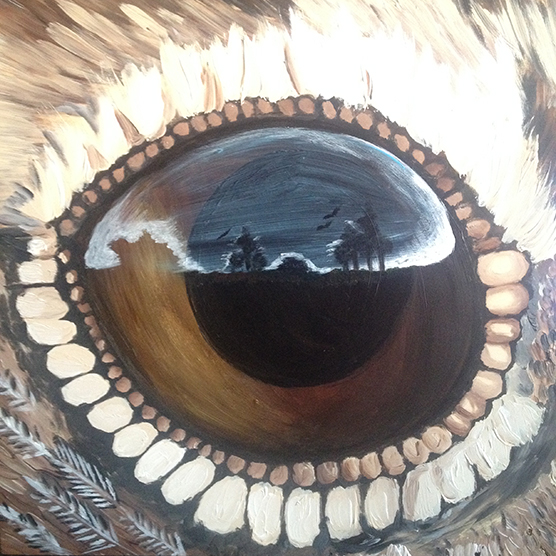 News Release Date:
January 13, 2014
Contact: General Park Information, 305-242-7700
Contact: Media Contact only:  Linda Friar, 305-242-7714
Contact: Mary Plumb, 305-242-7017
HOMESTEAD, Florida:  Everglades National Park is proud to present, "Eyes of Everglades" by Cynthia L. Diaz at the Ernest F. Coe Visitor Center Gallery during the month of January.  An artist's reception will be held Saturday, January 18, 2014, from 12:00 noon to 3:00 p.m.  Admission is free. 
Human eyes had always been Cynthia's favorite subject to sketch, but working in the Everglades with her, "amazing wildlife coworkers" she noticed that they too have beautiful expressions with their eyes and often go unnoticed. She noted that, "while we were looking at animals, they were looking at us." 
Through her series, "Eyes of Everglades," Cynthia's goal is to have everyone who looks into those eyes not only appreciate the beauty in them, but also feel a connection to who the animals are.  In this, she hopes people realize, "what we do with our lives will affect animals and what happens to their lives will in turn affect ours." As a young, local artist, she would also like to help serve as an inspiration to other young people to achieve their goals, and to publicly exhibit their art for all to enjoy.  
WHAT: Artist's Exhibit in Earnest F. Coe Visitor Center Gallery
WHEN:        Artist's reception Saturday, January 18 (12:00 – 3:00 p.m.); exhibit open January 2014
WHERE: The Ernest F. Coe Visitor Center Gallery
The Ernest F. Coe Visitor Center is located at 40001 State Road 9336, approximately 10 miles southwest of Florida City. Visitor center hours are8:00 a.m. to 5:00 p.m. daily and admission is free. For information and directions to the park call (305) 242-7700. More information on Everglades National Park can be found on the park website.