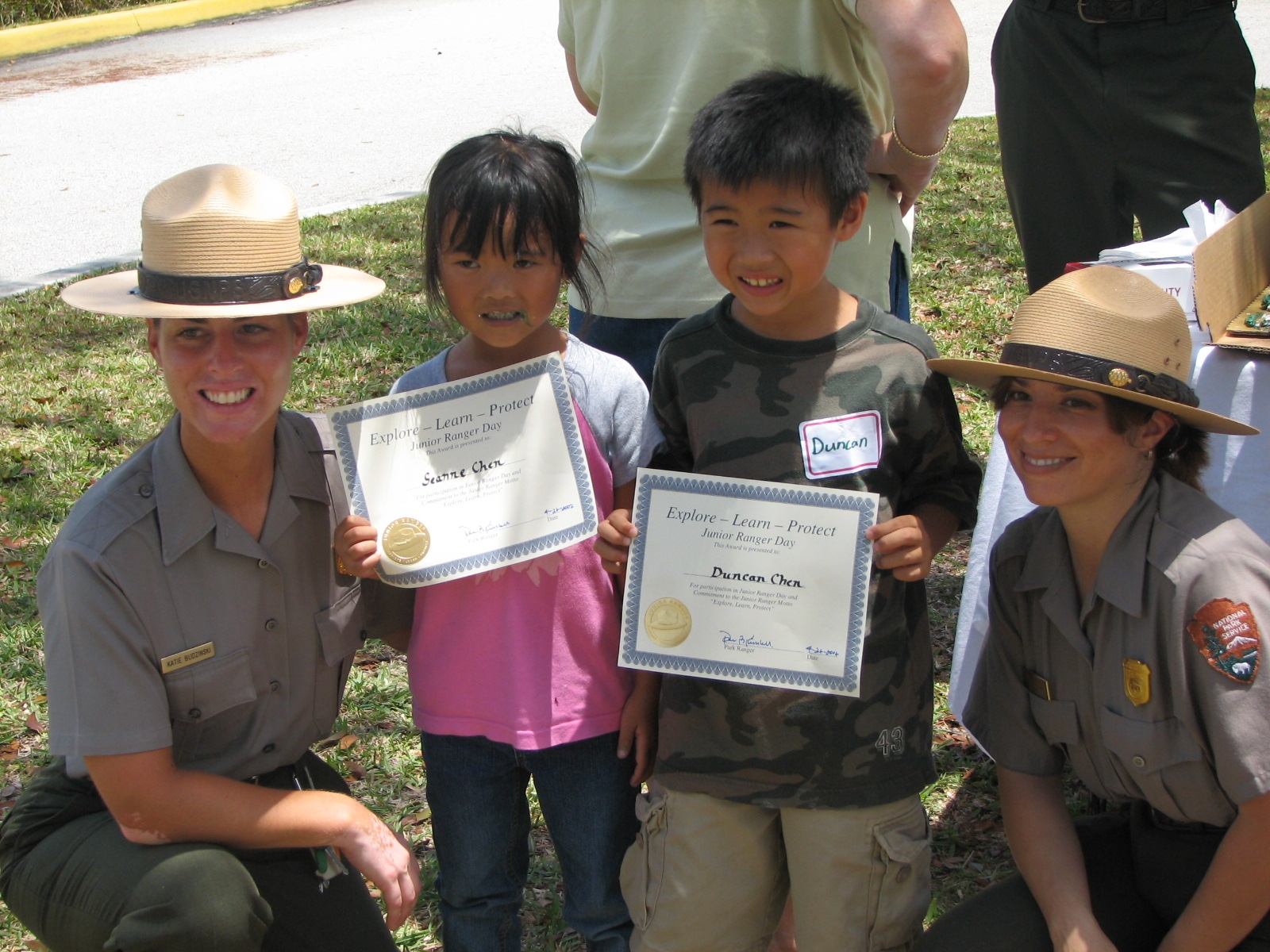 News Release Date:
April 8, 2009
Contact: Linda Friar, 305-242-7714
Contact: Environmental Education, 305-242-7753
Miami Florida: Come join us on April 11th to "Explore, Learn, and Protect" your national parks! Everglades National Park will celebrate National Junior Ranger Day April 11th beginning at 9:30 a.m with kid-friendly activities and programs for the entire family at the Shark Valley area of the park located on US Highway 41, 25 miles west of the Florida Turnpike. Join us for all or part of the day! 
On Junior Ranger Day at Shark Valley, kids can participate in special activities and earn a Junior Ranger badge. Special programs and activities include short ranger talks, guided walks, a touch table, and exhibits for kids from 9:30 a.m. to 1:30 p.m. Families can experience the many park habitats and view the wildlife around the park on this special day. The concession offers bike rentals or tram tours (Call 305-221-8455 fees and times), or you can choose to walk at your own pace or bring your own bicycles to explore all or part the 15 mile loop that winds around this part of the park. Junior Ranger Activity Guides are available in English, Spanish, and Haitian-Creole and may be obtained at any of the park visitor centers. The program is designed for kids 8-12 years old, but is available to kids of all ages! 
Registration for the Junior Ranger program begins at 9:30 a.m. where Junior Rangers will receive an activity book that must be completed to earn a junior ranger badge. Later in the day participants will meet up for a picnic lunch (please bring your own) and at 1:30 p.m. Park Rangers will conduct a ceremony to award new Junior Rangers their badges.
National Junior Ranger Day celebrates Junior Rangers past and present. Junior Rangers are people who are young or young at heart who have fulfilled the requirements to earn a Junior Ranger badge or patch in at least one of the almost 300 National Park units across the nation that have a Junior Ranger program. The motto of the program is, "explore, learn, protect: be a Junior Ranger."
The National Park Service's Junior Ranger program began in the 1960s and was adopted to help kids and their families explore and learn about their national parks, cultivating future generations of park stewards. Today, hundreds of thousands of Junior Rangers are sworn in each year, and there is even a WebRanger program for those who are unable to visit a national park. Everyday at National Parks across the country Rangers make the national park experience special Everglades National Park is pleased to announce a Junior Ranger Day on Saturday, April, 11, 2009. Junior Ranger Day is an annual event that highlights youth in national parks and the Junior Ranger Program. The Junior Ranger program is a national program designed specifically for kids and families who visit National Park Service sites.
To learn more about Everglades National Park's celebration of National Junior Ranger Day, call the Everglades National Park Environmental Education Branch at 305-242-7753. To learn more about becoming a Junior Ranger, or about the National Park Service's WebRanger program, please visit the RangerZONE at https://www.nps.gov/learn/juniorranger.htm.
-NPS-