Date:
November 29, 2011
Contact:
Kevin Bowles-Mohr
, 305-242-7752, Event Information
Contact:
Linda Friar
, 305-242-7714, Media Contact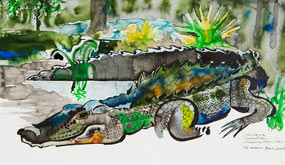 Art Exhibit Celebrates 10 years of Artists in Residence in Everglades Program 
An exciting new art exhibit opens this Sunday, December 4, at Everglades National Park's Ernest F. Coe Visitor Center. The park invites all to come visit the park and experience this great exhibit at a special opening reception from 2 - 5 pm on Sunday.
The exhibit celebrates one of south Florida's most successful art-and-nature collaborations: the Artists In Residence In Everglades (AIRIE) program. Included in the exhibit is a select group of unique art pieces that reflect the broad range of artists that have been part of this program over the past ten years.
Artists from around the country compete for the honor of becoming an AIRIE artist. The Park provides each AIRIE artist housing in the park under its volunteer program. In return, the artists provide programs for Park visitors, such as exhibitions, workshops, and lectures. And, most important, they donate an art work or literature that then becomes part of the Park's AIRIE Collection.
This program is the brain child of Florida-born New York artist Donna Marxer who believed it would be a great idea for artists and writers to experience Everglades National Park by living in the park and creating works of art that celebrated the one of a kind natural and cultural resources found only in America's Everglades. Ms. Marxer believed that interpreting the magic of this special place through art would develop a legacy and foster appreciation ofthis special place for generations to come. The Park eagerly agreed to be part of this exciting idea and joined 27 other national parks that host similar artist development programs.
75 artists and writers, known as Everglades Fellows, have come to the Park over the past ten years to live in the park for a month at a time and have produced some astounding works of art.
"The park is extremely proud to be part of such an innovative cultural program and we look forward to sharing the works of art that are part of the AIRIE Collection with the community in this incredible exhibit.We also look forward to the wonderful new works of art that AIRIE artists will contribute to this legacy in the future "said Park Superintendent Dan Kimball.
The AIRIE Collection exhibit can be seen December 1 - 31 in the Ernest F Coe Visitor Center Gallery.There is no fee to enter the Coe Visitor Center and view the exhibit.The center is open seven days a week from 9:00 a.m. to 5:00 p.m.The main entrance to Everglades National Park is located on State Road 9336, approximately 10 miles southwest of Florida City.It is accessible from Palm Drive (SW 344th St.) off U.S. Highway 1.
Information about AIRIE can be found on the park website at https://www.nps.gov/ever/supportyourpark/everartistinresidence.htm.