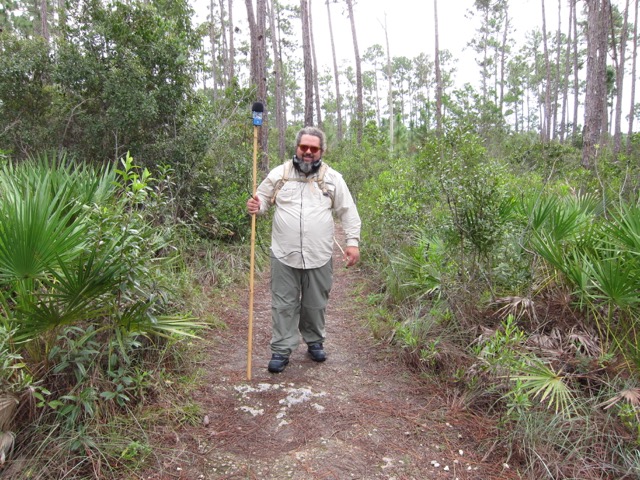 News Release Date:
January 28, 2016
Contact: General Park Information, 305-242-7700
Contact: Airie Deborah Mitchell, 305-978-4983
Contact: Media Contact: Linda Friar, 305-242-7714
This Sunday, get outdoors and Find Your Park, at the first Artists in Residence (AIRIE) Sunday in the park series.
The AIRIE organization selects 12 artists from a pool of applicants each year who spend a month living and creating their art forms in the park.Several of these artists will share their work in a unique program of performances and installations by current or past Artists in Residence.
The public is invited to this event at the Long Pine Key area of the park.The program will help you connect and be inspired by art created in the park, highlighting the wild culture of Everglades National Park.The event is free and open to the public with park admission, but RSVP is strongly encouraged at www.airie.org .
Park Superintendent Pedro Ramos welcomes and supports AIRIE's outreach, especially during the centennial year of the National Park Service."As we embark on our efforts to become more relevant to all people," he said, "the arts are an important venue for many Americans and international visitors to identify themselves with the amazing natural wonder that is Everglades National Park. For generations, both the arts and the parks have been telling the story of our country. It makes a lot of sense to bring them together in order to help make the storytelling much more powerful and relevant to people, perhaps enriching their lives."
The National Parks Trolley in Homestead offers roundtrip transportation at 2 pm from Losner Park, seating is limited.Park entrance fees apply to guests arriving with their own vehicle.
Who:Artists in Residence in Everglades National Park
When:Sunday January 31, 2 –5 pm
Where: Long Pine Key Picnic Area and Amphitheater, just south of the main park entrance in Homestead, Florida
What: Art performance and installations by AIRIE artists
2 pm –Follow signs to check-in and walk the Long Pine Key Trail with AIRIE members.
3 pm –Current Artist in Residence Jose Elias performs composition from his new Everglades Songbook Suite.
4 Ppm –Follow Elias along the shoreline to the amphitheater area for the debut of The Furies of the Swamp, a site-specific performance by AIRIE fellow Christina Pettersson. Refreshments and Q&A with the artists will be followed by AIRIE videos and a campfire at dusk.
For information and directions to the park please visit the park website at https://www.nps.gov/ever or call (305) 242-7700 (during regular business hours, Monday through Friday, 8:00 a.m. –4:30 p.m.).