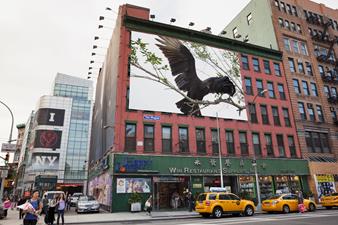 News Release Date:
December 9, 2014
Contact: General Park Information, 305-242-7700
Contact: AIRIE Contact Deborah Mitchell, 305-978-4983
Contact: Media Contact Linda Friar, 305-242-7714
In 2015, artists will begin rewilding Miami through AIRIE's Wild Billboards project, initiated with support from the Knight Arts Challenge Grant just in time for the National Park Service's centennial celebration that will kick off in 2015 and run through 2016. "The focus of rewilding Miami using the cultural arts is to
strengthen the bonds between humans and our wilderness. AIRIE merges the cultural resources of our local environment and international artists through
this dynamic outreach campaign. Our imaginative urban billboards hopes to inspire the public to renew their dedication to the Everglades," says Deborah
Mitchell, Executive Director of AIRIE.
"Everglades National Park is excited about the potential for this project to inspire residents and visitors to Miami to connect with this incredible place and perhaps become part of the next generation of park visitors, supporters, and advocates! "said Linda
Friar, Chief of Public Affairs for Everglades National Park.
A watery wilderness that embraces South Florida's urban core, the Everglades protects a singular landscape that provides the ideal habitat for some of North America's most rare and endangered species. Lying just outside the frenetic urban landscapes of Miami and its adjacent suburbs, the River of Grass provides a home to the alligators and birds South Florida is known for and cleans the water that
reaches our famous beaches. Yet within South Florida's developed urban areas, there is little to remind us of this vast watery world that is so crucial to
our future.
AIRIE will seek "billboards with views" of places like the urban/wilderness transition on the Tamiami Trail near Krome Avenue, the Okeechobee Canal, the Port of Miami, the Golden Glades Interchange, or downtown Miami from I95. Artwork and texts by AIRIE Fellows will inspire the public to reconsider these sites, and remind us that the River of Grass preceded urban development and continues to flow just
to our west.
"When you bring the arts into people's everyday lives, magical things happen.You reach people in new ways, help them rethink and consider their neighborhoods and communities.We hope the Wild Billboards will challenge South Floridians and their views of the wilderness that surrounds us," says
Dennis Scholl, vice president for the arts at Knight Foundation.This year 47 winners were awarded over $2.29 million to help bring South Florida together through the cultural arts.AIRIE in the Garden, an afternoon of live performances and Everglades themed art to raise matching funds for the grant,
will take place on January 24th, from 2-5 pm at Pinecrest Gardens.Tickets available online at www.airie.org.
-NPS-
About AIRIE South Florida is home to the only subtropical wilderness area in the country, and
Artists in Residence in Everglades (AIRIE) is the only program bringing artists to the Everglades. AIRIE's purpose is to inform, connect, and support artists, writers and musicians who wish to be ambassadors for the Everglades by providing month-long residencies on-site. Since 2002 over 70 artists have produced astounding work at the residency. For more information visit www.airie.org or contact AIRIE staff at airieinfo@gmail.com.
About the John S. and James L. Knight Foundation Knight Foundation supports transformational ideas that promote quality journalism, advance media innovation, engage communities and foster the arts. The foundation believes that democracy thrives when people and communities are informed and engaged. For more, visit KnightFoundation.org. For more on the Knight Arts Challenge, visit Knight Arts.org
Image by Susan Silas, Flight, Proposal for billboard (Soho, New York) 2014