Date:
November 20, 2014
Contact:
General Park Information
, 305-242-7700
Contact:
AIRE Contact Deborah Mitchell
, 305-978-5983
Contact:
Media Contact Linda Friar
, 305-242-7714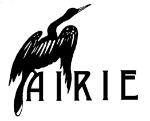 Everglades National Park and it's Artists in Residence in Everglades (AIRIE) organization is pleased to announce the 2015 AIRIE Fellows. AIRIE's goal is to inform, connect, and support artists, writers and musicians who wish to be inspired by the Everglades and then become ambassadors for the park and its resources. Next year, AIRIE and the park will host a creative group of local, national and international artists who will work in Everglades National Park for a month at a time.
2015 AIRIE Fellows include writers Andrew Gottlieb and Nancy Krim, architect CaterinaTiazzoldi, painterElizabeth Condon, photographers Alanartists—painters, new media artists, photographers, writers, a filmmaker and an architect
,Alan Winslow andMatthew Booth, audio artis tValerie George, filmmaker Celia Rowlson-Hall, as well as Florida natives including multi-disciplinary artists Jason Hedges,Franky Cruz, Christina Petterson, and Onajide Shabaka.
AIRIE partners with the park to offer month-long artist residencies in this subtropical wilderness. At least twelve AIRIE Fellows per year live and create new work in the park, and in return lead interactive activities with visitors and donate artwork to the park.
With generous support from the John S. and James L. Knight Foundation Arts Challenge Grant, AIRIE connects Fellows with the South Florida cultural community to bring attention to this unique and endangered part of our national heritage. AIRIE's expanded programming will feature a year-round calendar of events both in the Everglades and outside the park, including readings, performances, workshops and lectures. Through these outreach events, Fellows will use their art forms to engage the public, showcasing the Everglades as inspiring, important and worth protecting.
"Everglades National Park is one of the world's iconic landscapes, filled with both spectacle and subtlety. AIRIE artists have the unique ability to show us things we've missed that are before our eyes every day. And for those who don't know this place intimately, to reveal its wonders for the first time," observed Acting Park Superintendent Bob Krumenaker.
Artists in Residence in Everglades (AIRIE) is a not-for-profit organization generously supported by the John S. and James L. Knight Foundation and the Puffin Foundation, and with the support of Everglades National Park.
More information on the AIRIE 2015 fellows can be viewed on the AIRIE website at http://airie.org/fellows/upcoming/