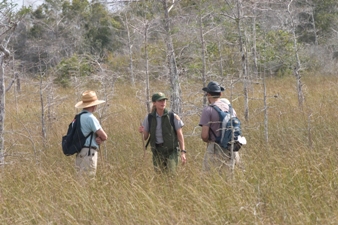 News Release Date:
December 22, 2011
Contact: General Park Information, 305-242-7710
Contact: Media Contact: Linda Friar, 305-242-7714
As the dry season quickly progresses, mosquitoes and afternoon storms are gone, leaving calm, beautiful days for visiting Everglades National Park. Whether you have one hour or a full week, the dry winter season is the best time of year to get outside and see spectacular wildlife and enjoy the rich natural beauty of the Everglades.
The park's seasonal programs begin December 23rd, 2011 and run through March 31st 2012. This is the time when more park rangers are available to help visitors get more out of a visit to the park through a variety of ranger-guided programs.
"We are excited to begin the 64th year of guided programs for the enjoyment of our million visitors each year since the establishment of the Park on December 6, 1947! " said Superintendent Dan Kimball.
Ranger guided programs will be offered in all areas of the park with easy access from Naples to Miami at the Gulf Coast, Shark Valley, Royal Palm, and Flamingo park areas.
In addition to the traditional favorite ranger programs such as exploring the Ten Thousand Islands by canoe, enjoying the serenity of wading through the river of grass on a Slough Slog, gazing at alligators on the Shark Valley Tram, or attending an Evening Program under the stars, this year's programs offer some exciting new options. These new programs offer options for those who want a relaxed opportunity to experience the park and for those who look for a little more of a challenge in an outdoor experience.
Great for Outdoor Adventurist
Pinelands Powerwalk at Royal Palm, a brisk 5 mile walk through the Park's most botanically diverse habitat.
Everglades Bike Hike, a 2.5 hour bike tour in the Pine Rocklands.
Moonlight Bike Ride at Shark Valley - Listen to the frogs croak and enjoy the sounds of a quiet evening in the Everglades (15 miles).
Canoe or Kayak the Everglades - Pick up a paddle and explore the shoreline and mysterious mangroves in Flamingo or Gulf Coast (duration varies).
Slough Slog at Royal Palm - Get a little wet and walk away with an an incredible memory of this great natural wonder - reservations required
For a less strenuous experience
Self guided - Take a drive to visit various sites along the main park road from Homestead to Flamingo (38 miles of wilderness).
Tropical Tree Walk at Flamingo - An easy stroll through native habitats..
Anhinga Amble, a popular easy 1/2 mile boardwalk at Royal Palm teaming with wildlife.
Shark Valley Tram - A great way for all to see diverse wildlife including alligators and wading birds (2 hours).
For a bit of history,
Calusa Days at Gulf Coast Visitor Center for March 26th -27th and March 31st-April 1st, 2012. Participants can discover a lost civilization, experience the Turner River Shell Mounds via canoe or boat tours, and participate in a mock archeological dig.
Discover Paradise Lost at Royal Palm - costumed re-enactors portray colorful characters of Everglades past on a Saturday afternoons.
Nike Missile Base night Tour - Homestead entrance - Feel the suspense faced by soldiers stationed at the Nike Missile site nestled in the center of the park.
Become a "citizen scientist"
Big Day Birding Adventures at Flamingo I- Visitors identify and document birds during a 3 mile walk.
Nature's Notebook Boat Tour at Gulf Coast - Document changes in the Everglades ecosystem on 1.5 hour boat tour.
Many more programs are available. See the park website for a complete list of programs: https://www.nps.gov/ever/planyourvisit/rangerprograms.htm.
Check in or call area visitor centers for current schedules and times. Some ranger-guided programs require reservations in advance. Required reservations are specified in program schedules.
For your safety, visitors are encouraged to bring water, sunscreen, and appropriate footwear.
Hope to see you in Everglades National Park this season!
Royal Palm Visitor Center 305-242-7700 Shark Valley Visitor Center 305-221-8776
Flamingo Visitor Center 239-639-2945 Gulf Coast Visitor Center 239-695-2591
More information on Everglades National Park can be found on the park website at https://www.nps.gov/ever/