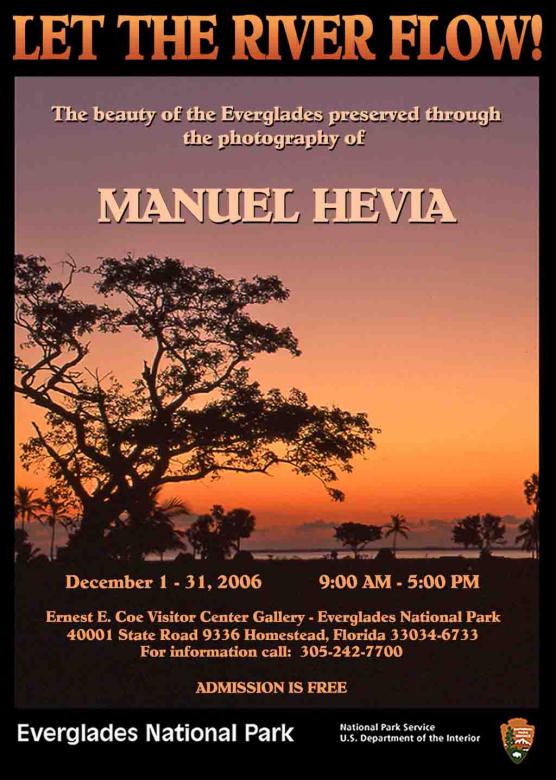 News Release Date:
November 30, 2006
Contact: Linda Friar, 305-242-7714
The beauty of the Everglades as seen through the eyes of Miami Beach photographer Manuel Hevia is now available for viewing at Everglades National Park's Ernest Coe Visitor Center through December 31, 2006.
Manuel Hevia is an up and coming nature photographer who also teaches the skills of his profession to others. He instructs photography workshops at the Louis Wommer Photography studios, assists in the Miami Dade College color and black and white darkrooms, and is often a judge at local photography contests. The Let the River Flow Collection includes fifty hand printed photographs of the river of grass that represent the Everglades' water system. Manuel Hevia hopes that the beauty and infinite wonder of our environment will bring those who visit this exhibit pleasure and a desire to preserve America's wilderness for this and future generations.
Manuel Hevia has gone to great lengths to snap some of the images you can see at the Visitor Center. "Sleeping in a tree after a day's walk through knee-deep water elicits reactions of shock and disbelief" says Manuel Hevia. "I am often asked "weren't you sacred of the snakes and alligators?" His answer is no, and that, he says, is what begins to explain my passion for these photographs. A desire to capture images reminiscent of a time when preparing a shelter as the sun set was considered normal drives this artist to share these images with those who may never have shared these marvelous sensory experiences. "If everyone could do a little something together, we could make an extraordinary difference in securing the irreplaceable and stunning diversity of life on earth," concludes Hevia.
The Let the River Flow! collection of images will be on display at the Ernest Coe Visitor Center in Everglades National Park through December 31, 2006. The Visitor Center is located 11 miles Southwest of Homestead on State Road 9336 and also features award-winning natural history displays, an 18-minute film about Everglades National Park, and related book sales. Center hours are 8 A.M. to 5 P.M. daily. Admission to the visitor center is free. For information and directions to the park call (305) 242-7700.