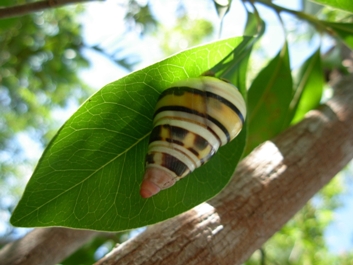 News Release Date:
July 27, 2011
Contact: Event Contact - Cerisa Swanberg, 305-242-7040
Contact: Media Contact - Linda Friar, 305-242-7714
Join Artist-in-Residence Kathy Garvey 2:30 pm on Saturday, July 30, 2011 at the Ernest Coe Visitor Center for a presentation and discussion of liguus tree snails and their unique patterns. Garvey will also describe where and how to find these beautiful tree snails and discuss how these treasures inspired her artwork created during her Everglades residency as part of the Artist-in-Residence-in-Everglades (AIRIE) Program.
The AIRIE program provides the opportunity for artists and writers to live and work in Everglades National Park in order to explore and identify the relationship between nature and art. AIRIE provides a place for artists of all disciplines to create in this wilderness setting, share this experience with park visitors, and to reach a wider public by calling attention to this unique and endangered part of our national heritage. To learn more about the Artist-in-Residence-in-Everglades (AIRIE) Program, visit: www.airie.org or contact AIRIE Coordinator Cerisa Swanberg at 305-242-7040 or Cerisa_Swanberg@nps.gov.
Directions
: There is no fee to enter the Coe Visitor Center and view the exhibit. The center is open seven days a week from 8:00 a.m. to 5:00 p.m. The main entrance to Everglades National Park is located on State Road 9336, approximately 10 miles southwest of Florida City. It is accessible from Palm Drive (SW 344
th
St.) off U.S. Highway 1.