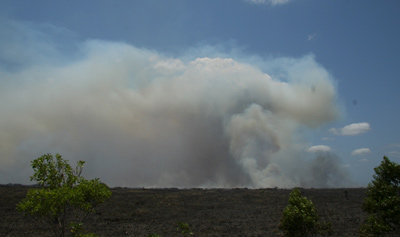 News Release Date:
May 15, 2008
Contact: Larry Perez, 305-338-3499
Everglades National Park personnel continue efforts today to control a large wildfire that originated south of the Chekika visitor area. Dubbed "Mustang Corner," the fire was first reported Wednesday morning and is likely human-caused. It is estimated to have covered approximately 13,000 acres as of Thursday morning. The park is engaged in full suppression efforts, largely to minimize impacts to habitat for nearby subpopulations of the Cape Sable Seaside Sparrow, a federally endangered species.
Current suppression efforts will focus on containing the fire's northern flank in the face of forecasted south winds. The fire does not currently threaten any park structures or visitor facilities. Everglades Fire Management is coordinating an interagency team that includes representatives from the US Fish and Wildlife Service and the Florida Division of Forestry.
-NPS-