CESI Assessment Project 99-1
A Meta-Analysis and Synthesis of Existing Information on Higher Trophic Levels in Florida Bay (Model Validation and Prediction)
Darlene Johnson, Joan A. Browder, Doug Harper & Steven Wong

Reviving the health and productivity of Florida Bay is a significant goal of Everglades restoration. Alterations to present-day water management practices are expected to restore more natural hydrologic conditions to the area and, by extension, benefit the estuarine and marine organisms that call the bay home.
Simulation models that predict ecological response will be an important tool in decision-making. This CESI-funded study developed such models for 11 dominant forage species in Florida Bay, including both pink shrimp and a variety of small fish. This investigation also validates the models by testing against data from previous years.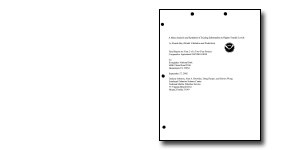 Final Report
(PDF, 22 MB)
Contact the principal investigator directly with questions about this study.
Last updated: April 14, 2015