CESI Assessment Project 98-6
Genetic Characterization and Identification of Multiple Swamp Eel Introductions
Timothy M. Collins, Joel C. Trexler, Leo G. Nico & William F. Loftus

The swamp eel (Monopterus spp.) is a relatively new invasive species that has established populations near Atlanta, Tampa, and North Miami. Most recently, these freshwater predators have also been detected in canals in south Miami-Dade county that border Everglades National Park. Like all exotic, invasive species, the swamp eel has the potential to disrupt natural ecosystems and displace native wildlife.
The Critical Ecosystem Studies Initiative funded this investigation into the genetic diversity and variation of swamp eel populations. Understanding the origins and subsequent distribution of eels is a critical step in formulating an effective biological control strategy. This project also archives genetic samples from founding eel populations and documents valuable life history information about the subjects.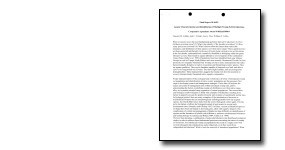 Final Report
(PDF, 361 KB)
Contact the principal investigator directly with questions about this study.
Swamp Eel, Genetics, Introductions, Invasive, Timothy Collins, Joel Trexler, Leo Nico, William Loftus, Everglades, CESI, Critical Ecosystem Studies Initiative
Last updated: April 14, 2015