CESI Assessment Project 98-2
Flow-Velocity Data Collected in the Wetlands Adjacent to Canal C-111 in South Florida During 1997 and 1999
Maria H. Ball & Raymond W. Schaffranek

Historically, seasonal pulses of freshwater flowed from the southeastern Everglades into a series of coastal wetlands before draining into northeast Florida Bay. This periodic sheetflow provided important nourishment to the marshes, while regulating salinity levels in the bay. Construction of the C-111 canal, however, effectively captured much of this flow, diverting it swiftly to the east.
Recognizing the importance of water flow to the area, a series of modifications were made to the canal in the late 1990s to encourage a greater movement of water into the wetlands. This CESI-funded investigation analyzes canal/wetland flow velocities and other water quality parameters to help evaluate the effectiveness of these modifications.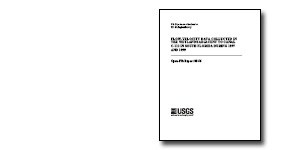 Final Report
(PDF, 1 MB)
Contact the principal investigator directly with questions about this study.
Maria Ball, Raymond Schaffranek, C-111, Flow, Velocity, Wetlands, Water Quality, CESI, Critical Ecosystem Studies Initiative
Last updated: April 14, 2015