CESI Assessment Project 98-1
Analysis of Relationships of Fish With Hydrology Using Long-term Databases
Joel Trexler & William F. Loftus

Fish communities have been the subject of long-term monitoring efforts in Everglades National Park since the 1960s. Thanks to the large spatial distances over which much of this work has been done, the collected data can provide valuable information to better inform our efforts at management and restoration.
This two-part study first examines the history of fish monitoring programs in the park. Investigators then analyze data collected over a 22-year period. The results reveal significant findings related to the response of fish communities to changes to experimental water deliveries, influences from water control structures, and the effects of drought.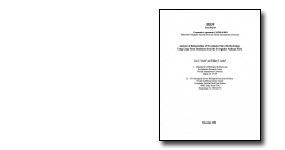 Final Report
(PDF, 7.7 MB)
Trexler, J. C., W. F. Loftus, S. A. Perry. 2005. Disturbance frequency and community structure in a twenty-five year intervention study. Oecologia 145:140-152.
Contact the principal investigator directly with questions about this study,
or to receive copies of related publications.
Last updated: February 16, 2018