CESI Assessment Project 97-7
Recent Patterns in the Vegetation of Taylor Slough,
Everglades National Park
T. V. Armentano, D. T. Jones & B. Gamble

Sloughs are areas of low-lying elevation that serve to channel the flow of surface water through the landscape. Taylor Slough is one such artery of overland flow in the southeastern Everglades, draining eventually into northeastern Florida Bay. The vegetation present in the slough was largely the result of considerable, seasonal infusions of freshwater from the north.
Efforts at draining the Everglades have had a pronounced effect on Taylor Slough, significantly lowering the water table. This CESI-funded investigation allowed scientists to revisit several vegetation transects that had not been sampled for fifteen to twenty years. Surveying these areas anew provides valuable information on how plant communities have responded in light of hydrologic change.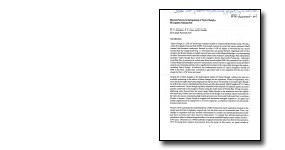 Final Report
(PDF, 710 KB)
Contact the principal investigator directly with questions about this study.
Last updated: April 14, 2015