CESI Assessment Project 97-6
Spatial and Temporal Patterns of Tree Islands in the
Arthur R. Marshall Loxahatchee National Wildlife Refuge
Laura Ann Brandt

The structure and occurrence of tree islands in the Everglades has long been held to be a function of hydrology. Strong correlations seem to exist between the evolution of these vegetated oases and the flow of water. Ongoing restoration efforts aim to replicate as closely as possible the historic flow of water which, in turn, would help maintain the integrity of remaining tree islands.
This CESI-funded investigation examines the role of hydrology in patterns of change of tree islands in the Arthur R. Marshall Loxahatchee National Wildlife Refuge. Using both current and historic aerial photography, analysis was conducted examining the role of flow magnitude, direction, hydroperiod and ponding depth in the patterning of tree islands. Results suggest that restoration of only some of these parameters may not be sufficient to maintain the historic pattern and function of the ecosystem.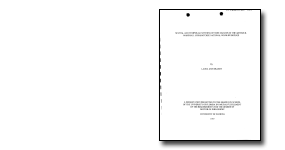 Final Report
(PDF, 4.3 MB)
Brandt, L. A., Portier, K. M., Kitchens, W. M. (2000). Patterns of Change in Tree Islands in Arthur R. Marshall Loxahatchee National Wildlife Refuge From 1950 to 1991. Wetlands, 20(1): 1-14.
Contact the principal investigator directly with questions about this study.
Loxahatchee, National Wildlife Refute, Tree Islands, Patterns, Change, Brandt, Kitchens, CESI, Critical Ecosystem Studies Initiative
Last updated: April 14, 2015