CESI Assessment Project 97-1
Assessment of Marsh Vegetation Responses to Hydrologic Restoration in Shark Slough, Everglades National Park
Mike Ross

Sloughs are areas of low-lying elevation that serve to channel the flow of surface water on the landscape. Shark Slough is the main artery of overland flow in the southern Everglades, and the vegetation in the area has developed in response to seasonal pulses of freshwater from the north. Over centuries, this dynamic has resulted in familiar patterns of linear growth that mimic the movements of water.
Restoration efforts aim to return more natural flows to Everglades National Park, and with it, the historic processes that drove a healthy, vibrant ecosystem. This CESI-funded project synthesizes several studies on the relationship between water, soils and vegetation in Shark Slough. The investigation also establishes a monitoring network that may yield important information in evaluating future success.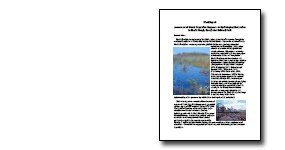 Final Report
(PDF, 3.3 MB)
Contact the principal investigator directly with questions about this study.
Last updated: April 14, 2015