CESI Assessment Project 10-3
Recommendations for Adaptive Management of
Apple Snails and Snail Kites in Florida
Patricia Valentine-Darby & Phil Darby

The endangered snail kite (Rostrhamus sociabilis plumbeus) inhabits freshwater wetlands in the central and southern parts of the state, including the Everglades. As a dietary specialist that feeds almost exclusively on Florida apple snails, it is considered a key indicator of Everglades restoration due to its dependence on healthy wetland habitats.
Over the past decade, both snail kites and Florida apple snails have suffered declines in population and abundance. This CESI-funded project produced a comprehensive literature review that not only synthesized our current understanding of each species, but also set forth recommendations for future adaptive management for the benefit of both.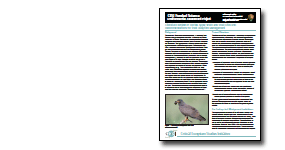 Project Fact Sheet
(PDF, 500 KB)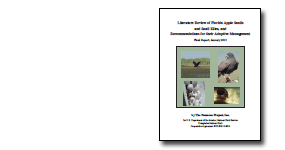 Project Final Report
(PDF, 6.1 MB)
Darby, P.C. 2006. Ecological studies of apple snails in Florida lakes: 2001-2006 Comprehensive Report. Prepared for Florida Fish and Wildlife Conservation Commission. University of West Florida, Pensacola, FL.
Darby, P.C., L.B. Karunaratne, and R.E. Bennetts. 2005. The influence of hydrology and associated habitat structure on spatial and temporal patterns of apple snail abundance and recruitment. Final Report to U.S. Geological Survey. University of West Florida, Pensacola, FL.
Martin, J., W.M. Kitchens, and J.E. Hines. 2007. Importance of well-designed monitoring programs for the conservation of endangered species: Case study of the snail kite. Conservation Biology 21(2):472-481.
Reichert, B., C. Cattau, W. Kitchens, R. Fletcher, J. Olbert, K. Pias, and C. Zweig. 2011. Snail kite demography annual report 2011. Prepared for U.S. Army Corps of Engineers. U.S. Geological Survey, Florida Cooperative Fish and Wildlife Research Unit.
Sustainable Ecosystems Institute. 2007. Everglades multi-species avian ecology and restoration review. Final Report to U.S. Fish and Wildlife Service. SEI, Portland, OR.
Contact the principal investigator directly with questions about this study.
Last updated: February 16, 2018