CESI Assessment Project 04-2
Diatom-Based Water Quality Performance Metrics for Biscayne Bay
Evelyn Gaiser, Anna Wachnicka, Christine Taylor & Raphael Travieso

A primary goal of ongoing restoration efforts is returning a more natural flow of freshwater to Biscayne Bay. Historically, seasonal infusions of flow from the mainland would serve to nourish coastal wetlands and help temper inshore salinities, thereby providing an environment hospitable to a highly diverse assemblage of marine life. Over the last century, large-scale modifications to the hydrologic regime of south Florida have resulted in a significant disruption of these former flows.
As restoration proceeds, performance measures will be necessary to gauge the success of these efforts. This CESI-funded investigation examines the feasibility of sampling diatoms (mostly unicellular phytoplankton) for this purpose, and establishes a methodology for predictive modeling. The study provides an effective strategy for tracking environmental change in light of diatom species composition.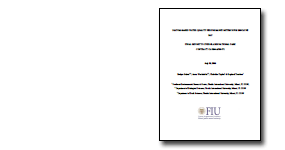 Final Report
(PDF, 3.3 MB)
Gaiser, E., Wachnicka, A., Ruiz, P., Tobias, F., Ross, M. (2005). Diatom Indicators of Ecosystem Change in Subtropical Coastal Wetlands. In Bortone, S. (ed.), Estuarine Indicators (127-144). Boca Raton, FL: CRC Press.
Gaiser, E.E., Zafiris, A., Ruiz, P.L., Tobias, F.A.C., Ross, M.S. (2006). Tracking Rates of Ecotone Migration Due to Salt-water Encroachment Using Fossil Mollusks in Coastal South Florida. Hydrobiologia, 569: 237-257
Contact the principal investigator directly with questions about this study.
Diatom, Diatoms, Water Quality, Biscayne Bay, Performance, Gaiser, Wachnicka, Taylor, Travieso, CESI, Critical Ecosystem Studies Initiative, Biscayne National Park
Last updated: April 14, 2015