CESI Assessment Project 04-1
Rapid Assessment of Restoration Performance Measures at Multiple Scales in the Greater Everglades Using Near Infrared Reflectance Spectroscopy (NIRS)
Matthew Cohen, Sabine Grunwald, Mark Clark & K. Ramesh Reddy

As the Comprehensive Everglades Restoration Plan moves forward, projects will need to be evaluated for their effectiveness. Peformance measures will be useful in providing a touchstone against which to guage success, or serve as catalysts for potential adaptive management strategies.
This CESI-funded investigation examines the potential use of soils as a metric of recovery. Specifically, this study details the feasibility of using high-resolution diffuse reflectance spectroscopy (DRS) as a technique for the ecosystem monitoring of soils from the Greater Everglades.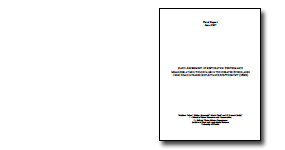 Final Report
(PDF, 3.8 MB)
Contact the principal investigator directly with questions about this study.
Everglades, Restoration, Greater Everglades, Soils, Near Infrared, Reflectance, Spectroscopy, Soil, CESI, Critical Ecosystem Studies Initiative, Cohen, Grunwald, Clark, Reddy
Last updated: April 14, 2015