CESI Assessment Project 03-3
An Assessment of the Interim Operational Plan
National Park Service

Water managers have long struggled to balance the needs of south Florida's natural environments with those of nearby urban communities. For over four decades, manipulations of water quality, quantity, timing, distribution and flow have often proven detrimental to the continued health of some ecosystems and species, including the federally endangered Cape Sable Seaside Sparrow.
Largely to create more favorable hydrologic conditions in the park for the protection of the sparrow, water managers began implementing a new Interim Operational Plan (IOP) in mid-2002. Fueled by concerns about the potential for water pollution, the disruption of natural flows, and the implications for larger restoration objectives, the United States Congress directed Everglades National Park to assess how the new IOP might impact park resources. This report serves as the culmination of the subsequent CESI-funded investigation.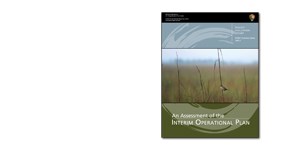 Final Report
(PDF, 2.7 MB)
Contact the principal investigator directly with questions about this study.
Last updated: April 14, 2015