CESI Assessment Project 03-1
Evaluation of Emerging Contaminants of Concern at the South District Wastewater Treatment Plant Based on Seasonal Sampling Events,
Miami-Dade County, Florida, 2004
A. C. Lietz & Michael T. Meyer

The Comprehensive Everglades Restoration Plan (CERP) has identified highly treated wastewater as a possible water source for the restoration of natural water flows and hydroperiods in selected coastal areas, including the Biscayne Bay coastal wetlands. Effluent from the South District Wastewater Treatment Plant in southern Miami-Dade County has been identified as one potential source of reclaimed wastewater for the Biscayne Bay coastal wetlands.
This CESI-funded study examines a suite of contaminants found in both the influent and effluent of the plant, including organic wastewater compounds, pharmaceutical compounds, antibiotic compounds and hormones. Because several of these are either known or suspected "endocrine disrupters", further investigation is needed to determine their potential effects to receiving ecosystems.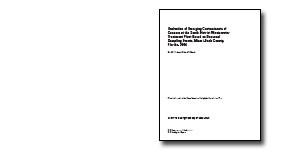 Final Report
(PDF, 2.3 MB)
Contact the principal investigator directly with questions about this study.
Contaminants, Wastewater, Miami-Ddae County, A. C. Lietz, Michael T. Meyer, Effluent, Organic Compounds
Last updated: April 14, 2015