CESI Assessment Project 01-5
A Public Engagement Handbook for the
Comprehensive Everglades Restoration Process
Laura Ogden, Mahadev Bhat, Daniel Dustin, Hugh Gladwin,
Kenneth Lipartito, Carolina Rivera & Laura Taylor

The Comprehensive Everglades Restoration Plan (CERP) has the potential to affect millions of people living across 16 central and south Florida counties. It is generally understood that a successful effort depends squarely upon an informed, concerned and engaged public. Given this reality, program managers are always interested in learning how best to elicit interest and participation from the community.
Beginning with an extensive review of public engagement literature, this study makes key recommendations for the development of effective public outreach strategies. Through the use of participatory research and community forums, project authors identified several critical tasks, including the assignment of outreach personnel, the integration of social science information, the use of multi-faceted communications, and the need for constant evaluation.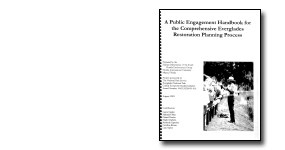 Final Report
(1.8 MB)
Contact the principal investigator directly with questions about this study.
Last updated: February 21, 2019