CESI Assessment Project 01-4
Everglades Online Thesaurus: A Standard Vocabulary for the South Florida Ecosystem
Gail P. Clement

Everglades restoration is a complex endeavor involving numerous people across many federal and state agencies, community organizations and tribal governments. As such, there is a need to better clarify and define the requisite terminology used to ensure that intent is preserved across cultural lines.
The Everglades Online Thesaurus is an information management tool that defines the "preferred terms" to be used for concepts which might have several variations. Standardizing vocabulary can help facilitate the retrieval of pertinent information across a wide spectrum of web sites, databases, and technology systems that are expected to work in concert towards successful restoration.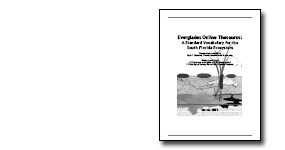 Final Report
(PDF, 315 KB)
Contact the principal investigator directly with questions about this study.
CESI, Critical Ecosystem Studies Initiative, Ecosystem Thesaurus, Everglades Restoration, Everglades Thesaurus, Gail Clement, Preferred terms
Last updated: April 14, 2015