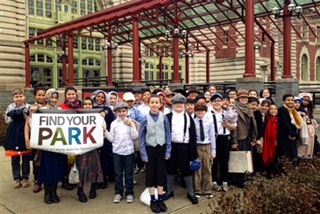 From interactive activities to ranger-led tours, there are many ways to engage students about immigration history. Take a look at our offerings below:
Our educational resources and on-site activities can now be found on our
Field Trips
page.

Educators, are you looking for our outstanding educational programs and worksheets?
Please contact our education division for electronic delivery.
Ranger-led Programs
Programs are free-of-charge.
The Journey
What did it take for immigrants to come to the United States?
Play the role of a newly-arrived immigrant coming to Ellis Island in the early 1900s.
Students will "be processed" by park staff as their immigrant character in this immersive activity.
Grades 3-6
Capacity: 15-60 Students
Time Length: 30 minutes
Immigrants at Work
What impact does immigration have on the United States economy?
Students explore how Ellis Island immigrants found jobs when they first settled in the United States. Playing the role of a business owner, students will analyze whether immigration is beneficial or detrimental for their community, while tying into themes of immigration and economy in both the past and present.
Grades 9-12
Capacity: 15-35 Students
Time Length: 60 minutes
E-mail us
for more information about the program.