Indoor Activities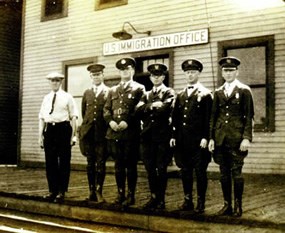 FREE Ranger-Guided Tours: Join a National Park Service Park Ranger on a walking tour through Ellis Island's historic halls. Walk in the footsteps of millions of immigrants as you learn about their journey to a new life in America.
Self-Guided Tours: Walk through 3 floors of exhibits that describe Ellis Island's pre- and post-immigration history, as well as the immigration experience, both before and during Ellis Island's operation as America's premier immigration station. You can find brochures with floor plans at the Information Desk in the Baggage Room on the first floor.
FREE Film: "Island of Hope, Island of Tears" is an award-winning documentary shown in two theaters. Each 35-minute presentation includes a 5-minute introductory talk followed by the 30-minute film. Each theater seats 140 people. Times are posted at the Information Desk in the Baggage Room on the first floor.
Searching Ship Manifests at Ellis Island: In April 2001, the Statue of Liberty & Ellis Island Foundation opened the "American Family Immigration History Center" at Ellis Island which contains the repository for over 22 million passenger records (manifests) for those arriving into the Port of New York between 1892 and 1924. You can search the database while at Ellis Island or search on-line at the Foundation's website.
Audio Tours: Guide visitors through the Ellis Island Immigration Museum. Audio tours are available in Arabic, English, French, German, Italian, Japanese, Mandarin, Russian, and Spanish. The audio tours, which complement the National Park Service Ranger-led tours on the islands, provide a major enhancement to the visitor experience on both islands. Visitors may pick up the audio tours after disembarking the ferry at each island.
Children's Audio Tours: We now have children's audio tours - specially designed for children ages 6-10, with animal character narrators. The children's audio tours are available in English, French, German, Italian, and Spanish.
The price of audio tours is included in the price of your ferry ticket.


Last updated: March 5, 2016