Physical/Mobility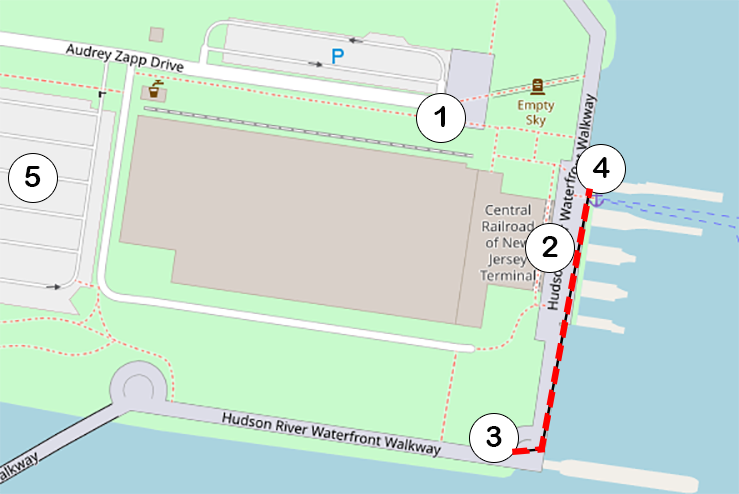 Liberty State Park Departure Change
The distance to the ferry embarkation from the security screening tent has increased by 300 yards [see map]. Please plan accordingly and bring a mobility device, such as an electric or manual wheelchair, or a manual mobility aid (such as walkers, canes or crutches) if needed.
1. Handicap-accessible drop-off location
2. Tickets
3. Security Screening Tent
4. Ferry Embarkation
5. Parking Lot
Transportation to Departure Points
Visitors taking mass transportation to the ferry departure point should consult the proper agency regarding accessibility. For directions and transportation options, please reference the Plan Your Visit section.

Required Security Screening
All visitors are required to pass through a required security screening before boarding any ferry. The security screening entrances provide ramps and handrails for mobile accessibility. Please reference the Safety and Security section for further information on the screening facilities.
Ferry Transportation
Statue City Cruises personnel provide assistance on the ferry gangways. Ferries have enclosed cabins on the main deck and outdoor spaces near the rear or above the main deck. Any deck above the main requires the use of stairs. Priority seating is available near the entrance of the enclosed main deck cabin. Restrooms aboard ferries are not handicapped accessible.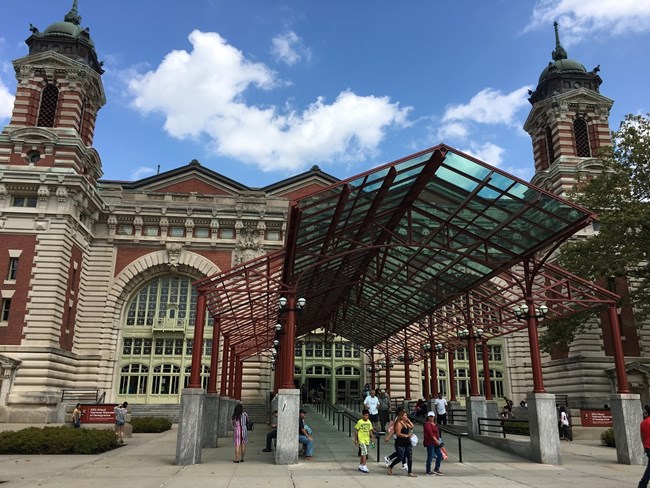 Ellis Island Museum Entrance
When arriving at Ellis Island, visitors make their way off of the Statue Crusies boat ramp and move towards the Main Building entrance. Ramps and staircases with railings lead visitors into the first floor level. Here you will find the Information Desk stationed by rangers who can provide park brochures, and directions for restrooms, elevators, suggestions on different aspects of the museum, the theaters, audio tours, and gift shops.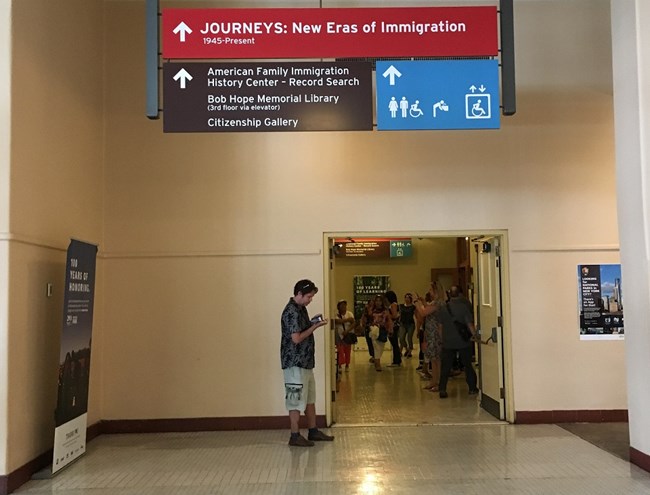 Elevators
There are two elevators for assisting visitors to the three different levels within the museum. These elevators are located on both the right and left sides of the first floor with directional signs showing the way. Ask a ranger at the Information Desk where to find the elevators! They will be happy to direct your way there!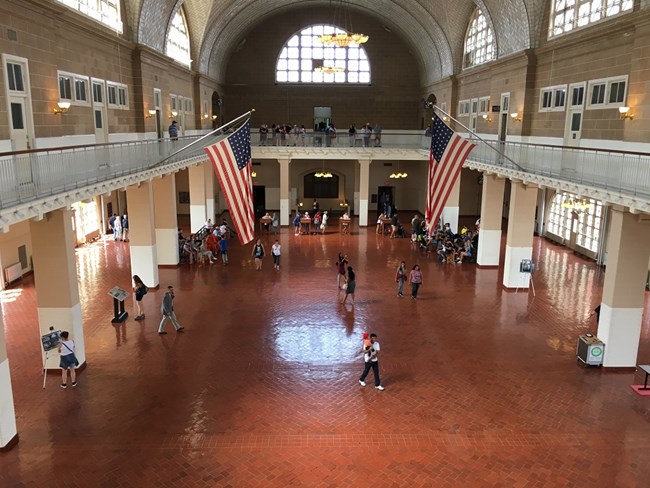 Easy Access
Throughout the three (3) floors of the Ellis Island National Museum of Immigration, visitors can enter and exit different exhibits as they please. Posted signage will guide visitors from floor to floor, and every exhibit is accessible. The first floor will lead visitors through immigrations prior to Ellis Island; the second floor exhibits immigration through Ellis Island's doors; and the third floor shows visitors the restoration of Ellis Island and physical items pertaining to the site.
Last updated: June 27, 2021