Deafness or Hearing Loss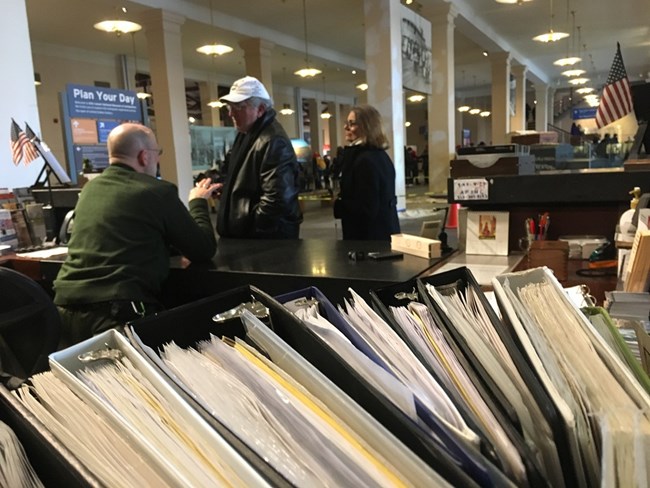 Information Center
Park Information is available in a variety of print formats. There is 30-minute film located in Theaters 1 & 2 in the Main Building of Ellis Island National Museum of Immigration to teach visitors about the history of Ellis Island and immigration in the United States. All video programs with sound and ambient audio programs are induction looped, and compatible with t-coil enabled hearing aids and cochlear implants. While visiting Ellis Island, emergency warnings and fire alarms are equipped with strobe (flashing) lights.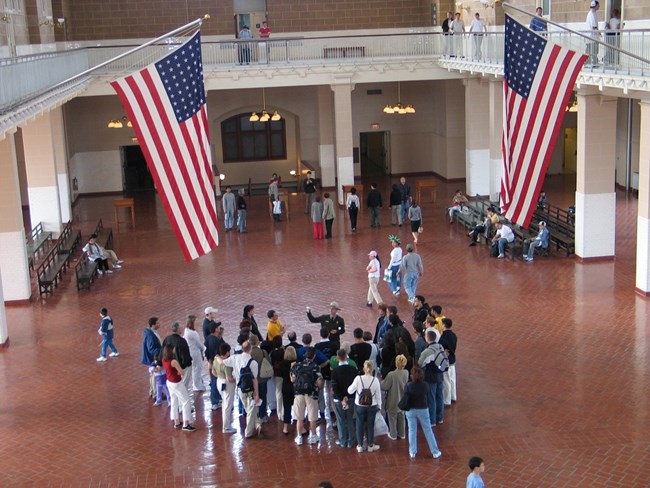 Programs and Tours
American Sign Language Tours may be arranged prior to your visit. If you wish to arrange for an ASL Tour, notification in writing is required at least two (2) weeks prior to your visit. Please
contact us
by sending an e-mail or a letter. All ranger programs strive to engage multiple senses and learning styles. They often include audio components and/or tactile objects. Ranger-led tours are offered year-round, and start on the first floor of the Main Immigration Building; close to the Information Desk. Tours may go outside, and usually include the Registry Room on the second floor. Visitors will have access to stairs, ramps, and elevators.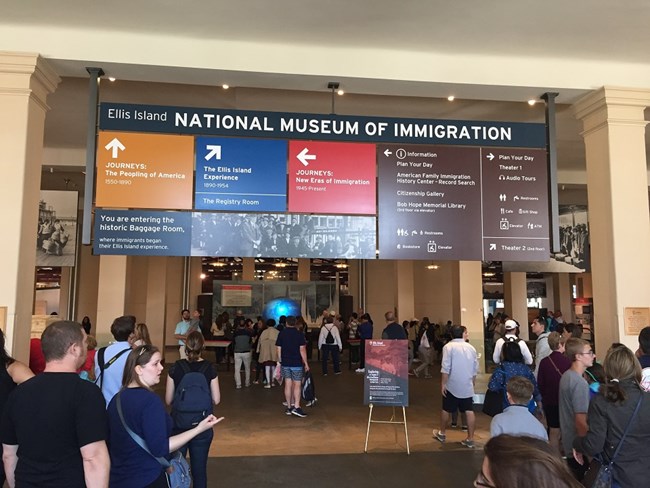 Audio Tour
Printed versions of the self-guided audio tour are available at the Information Center. The audio tour program is available in a variety of languages including American Sign Language (interpreter signinging displayed on screen). It includes historical accounts on the processing of immigrants on Ellis Island when it was used as an immigration station. The audio tour program can be used as a self-guided tour around Ellis Island, and as a narrative to artifacts located within the museum.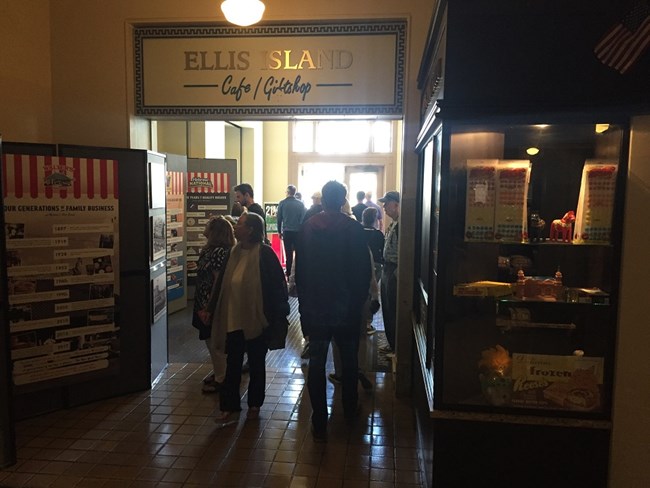 Ellis Island Cafe, America's National Parks Bookstore & other facilities
The Ellis Island Cafe, America's National Parks Bookstore and Gift Shop are located on the first floor of the Main Building. Printed information is available at each facility.
Click here for more information on the food services.
Emergency warnings and fire alarms are equipped with strobe (flashing) lights.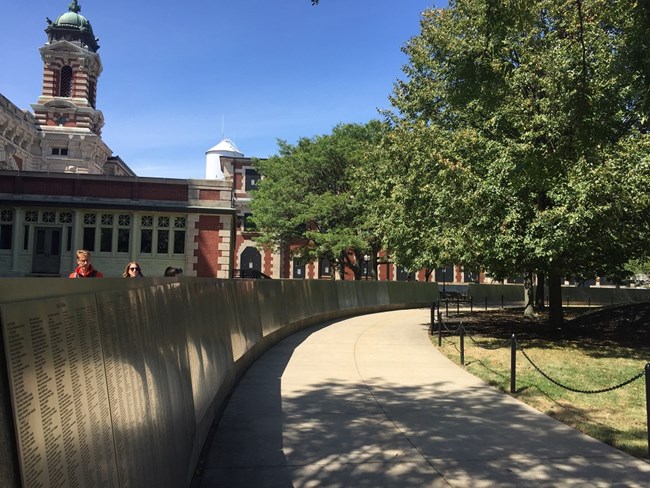 Moving around the park
There are three museum levels within the Main Building where visitors can access the different eras of immigration.
The First floor includes the Baggage Area, ranger information kiosk, America's National Parks Bookstore, Theater 1, Ellis Island Cafe, Gift Shop, ATM, restrooms, stairs to the Great Hall, and two elevators to assist visitors.
The Second Floor includes "Through Americas Gate" which details the immigration process, Hearing Room where immigrants would plead their cases for admission into the United States, the Registry Room (Great Hall) which is where immigrants under went medical and legal exams, and the Peak Immigration Years museum exploring the massive wave of immigration influx between 1880 and 1924.
The Third Floor includes the Bob Hope Memorial Library containing historical materials and resources pertaining to the monument, Changing Exhibits where temporary visiting exhibits are displayed, Restoring a Landmark detailing the restoration process of Ellis Island, Silent Voices area which explores the aftermath of the buildings closure in 1954, Treasures From Home shows over 2,000 possessions immigrants brought from their native homes, and Ellis Island Chronicles traces the history and expansion of the island when the government took over in 1808.
The American Immigrant Wall of Honor is located outside behind the Main Building. This wall commemorates all immigrants in America. Through donation, people can have a name added to the wall. Also located outside are the remnants of the foundation of Fort Gibson, a masonry fortification that helped defend New York Harbor from 1811-1860.
Last updated: July 28, 2021