2015 World War II Weekend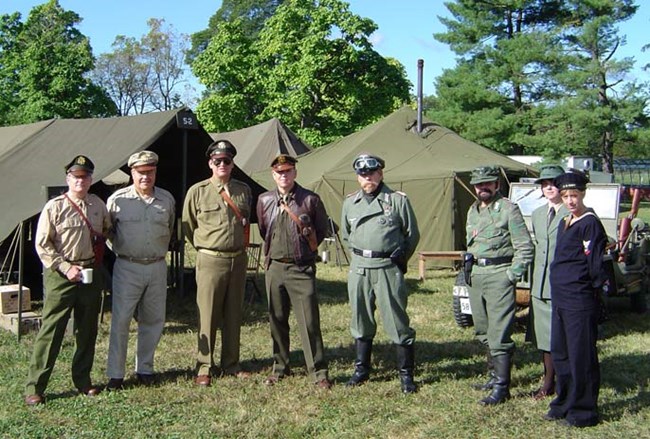 On September 19 and 20, 2015, the National Park Service will sponsor a World War II living history weekend at the Eisenhower National Historic Site with authentic recreations of Allied and German army camps, complete with original World War II vehicles. Several hundred living history enthusiasts from over forty organizations will portray military personnel from the European Theater in 1944.
Living history volunteers will present programs on World War II medical services, weapons and equipment, communications, military vehicles, and the life of the common soldier. Dozens of World War II jeeps and trucks will be displayed and mock Army Air Force bomber squadron mission briefing reenacted. Throughout the weekend, WWII veterans will share their experiences in the European and Pacific Theaters.
Both days author Don Markle and retired National Security Agency employee Rick Henderson will be on hand to demonstrate a captured German Enigma Code Machine, the Eisenhower bookstore will host several book signings, and Licensed Battlefield Guide Ralph Siegel will present free guided walks about the World War II dead buried in the Soldiers' National Cemetery at 5 p.m. Saturday, 10 a.m and 1 p.m. Sunday.
Saturday night a World War II style "USO" dance will be held at the Gettysburg National Military Park Museum and Visitor Center from 7:30 p.m. to 10:30 p.m., featuring 1940s music by the Gettysburg Big Band. Open to the public, tickets will be sold at the door for $10.00. A cash bar will be available.
The encampment will be open Saturday 9:00 a.m. to 4:30 p.m. and Sunday 9:00 a.m. to 4:00 p.m. Admission to the Eisenhower National Historic Site is by shuttle bus. Buses depart from the Gettysburg National Military Park Museum and Visitor Center located at 1195 Baltimore Pike. Weather permitting, on-site parking for cars only will also be available in a farm field accessible off of Emmitsburg Road, Business Route 15. Bus groups and visitors using wheelchairs should plan to use the shuttle system. For reservations, call 1-877-874-2478. Fees to enter the site either by shuttle bus or by parking in the field are adults, $7.50; children 6-12, $5.00; children age 6 and under are admitted free.
For more information contact the Eisenhower National Historic Site at (717) 338-9114.
Last updated: February 26, 2015