Wildflowers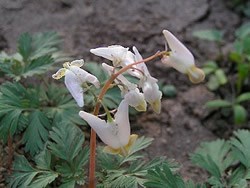 One of the earliest signs of spring at the Eisenhower National Historic Site is the blooming of wildflowers. The wildflower season begins in early April, with different plants continuing to bloom throughout the summer. However blooming times can be affected by location and weather.
Wildflowers that may be seen include trout lilly, spring beauty, cutleaf toothwort, wild geranium, bloodroot, wild ginger, rue anemone, yellow violet, yellow adders tongue, cardinal flower, hepatica, jack-in-the-pulpit, goldenrods, ironweed, mayapples, and more.
Please do not pick the wildflowers! Picking wildflowers not only denies others the opportunity to admire their beauty, but it also threatens the existence of the plant, and is illegal in all National Park units.
Related Information:
Vegetation Classification and mapping at Gettysburg National Military Park and Eisenhower National Historic Site, 2006
Inventory of Plant Species of Special Concern at Gettysburg National Military Park and Eisenhower National Historic Site, 2006
Last updated: February 26, 2015