Rivers and Streams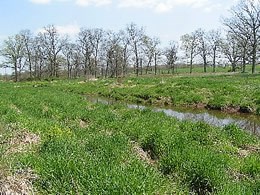 The Eisenhower National Historic Site contains two steams: Marsh Creek and Willoughby Run. Both streams flow across extensive red shale and sandstone substrates interspersed with thin beds of limestone. Dominant streambed substrates include cobble, gravel and areas of exposed bedrock, all covered extensively with silt. Both streams drain extensive agricultural landscapes upstream of the park.
Marsh Creek is a large stream that traverses the park for 0.3 miles with widths that vary from 5 to nearly 15 meters within the park. This creek is a principal tributary of the Monocacy River system. The upstream boundary crosses the stream in the vicinity of a municipal dam and associated impounded section. Downstream of the dam, the channel braids around several islands which collectively reform into a single channel several hundred meters prior to exiting the park.
Willoughby Run is a tributary of Marsh Creek and flows through the park for 0.7 miles. Willoughby Run is much smaller with main channel widths averaging between and 8 meters within the park section.The park section of Willoughby Run flows nearly parallel to and within 0.2 miles to the east of Marsh Creek.
Related Information:
Watershed Alliance of Adams County Conducts water quality monitoring on Marsh Creek
Last updated: February 26, 2015