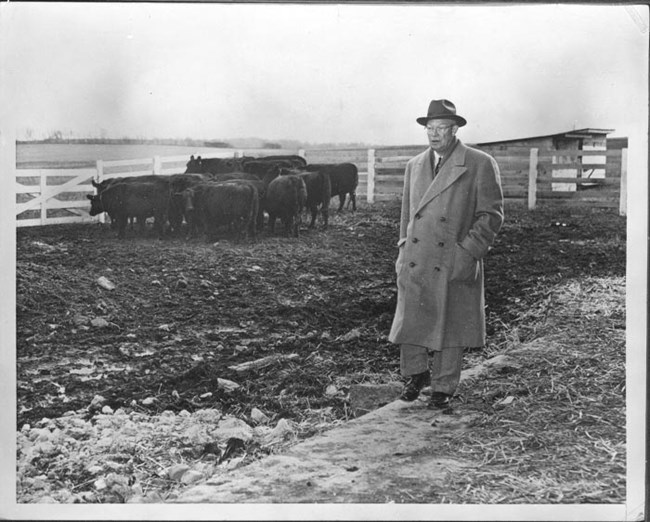 Cattle
President Eisenhower maintained a show herd of black Angus cattle on his Gettysburg farm. The President entered cattle in livestock shows across the country, winning grand championships at the Pennsylvania State Farm Show, blue ribbons at the International Live stock Competition in Chicago, and numerous other awards. While President, his cattle were entered under the names of his partners so as not to afford them any undue advantage in competition.
By the 1960s, the Eisenhower herd numbered 100 cows with calves. Today, a herd of 40 to 50 Angus still graze the pastures of the President's farm and the cattle ribbons are displayed on the walls of the show barn.
Wildlife
President Eisenhower was concerned that adequate habitat remained available on his farm to atttact wildlife, particularly game birds. He ensured habitat requirements were met by providing ground cover throughout the farm property.
As you tour the farm, be on the lookout for red-tailed hawks on the fence posts, black vultures circling overhead, and a great blue heron wading in the creek. A migrating bald eagle typically roosts in the trees along the southern edge of the farm every fall. Red fox and racoons are prevalent, and much to the farmers' dismay, there is an abundance of white tail deer and groundhogs. The Eisenhower Farm is also home to state endangered and threatened species including the loggerhead shrike and the least shrew.