Fees & Passes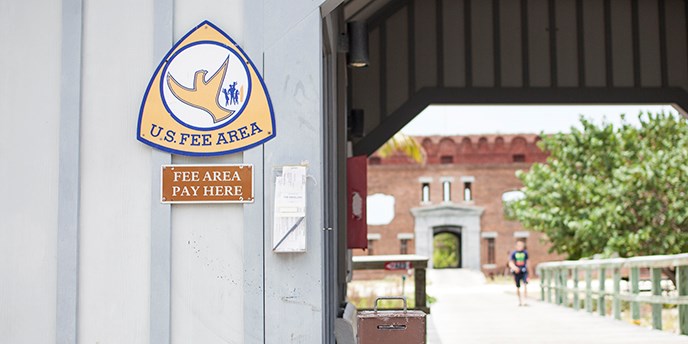 The entrance fee for Dry Tortugas National Park is $15.00 per person and is good for 7 consecutive days. Any person under 16 years of age is exempt from paying an entrance fee (this includes international visitors).

Arriving via seaplane or ferry
Ticket includes entrance fee to Dry Tortugas National Park and Fort Jefferson. If you hold a National Parks Pass, show your pass at check-in and the entrance fee will be deducted from your transportation cost.

Arriving via private boat or private seaplane
Fees are collected through a self-service fee area on the main dock at Garden Key. Cash or check only.
Camping Fees
The nightly fee of $15 per camping site is collected through a self-service fee area that is located in the campground. Under 16 are free. A 50% discount applies to holders of the Golden Age or Golden Access Pass. Group camping is a nightly fee of $30 per camping site.

Camping Fees can only be paid at the park by cash or check no matter your mode of transportation to the park. Seaplane or ferry concessions do not collect camping fees.



Academic Fee Waivers
All accredited educational and scientific institutions are eligible to receive free entrance to the park.
Bringing your classroom to the park can present many unique learning opportunities and novel ways for your students to advance their studies.
Note: Applications must be submitted here to the Special Use Permit Office, two weeks prior to the anticipated date of visit.
Academic Fee Waiver Instructions
Academic Fee Waiver Application


Last updated: June 1, 2018