Fees & Passes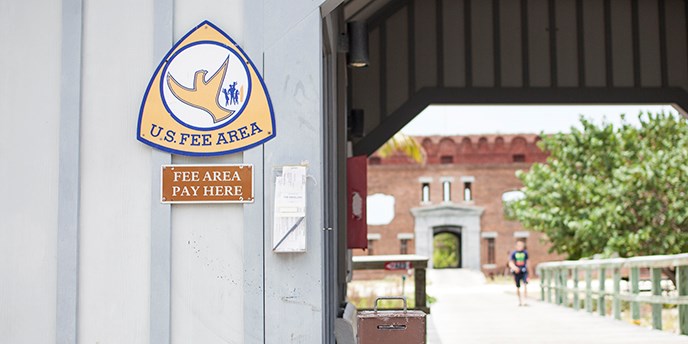 Entrance Fees for Dry Tortugas
The entrance fee for Dry Tortugas National Park is $15.00 per person and is good for 7 consecutive days. Any person under 16 years of age is exempt from paying an entrance fee (this includes international visitors).

Buy Your Digital Pass on Recreation.gov
Enjoy the convenience of purchasing an digital pass on Recreation.gov before you arrive. You have immediate access to your digital pass and can easily download it on your phone or tablet. Your pass will also be emailed as a PDF and can be printed out for display when you arrive. Buy your pass online!

Arriving via Seaplane or Ferry
Ferry ticket includes entrance fee to Dry Tortugas National Park and Fort Jefferson. Seaplane charges park entrance fee upon check-in. If you hold a National Parks Pass, show it at either check-in, and the entrance fee will be deducted or not charged with transportation costs.
Arriving via Private Boat or Private Seaplane
Fees are collected through a self-service fee area on the main dock at Garden Key. Cash or check only.
Free Entrance Days
On five days in 2020, all National Park Service sites that charge an entrance fee will offer free admission to everyone. Mark your calendar for these entrance fee–free dates in 2020:
January 20: Birthday of Martin Luther King, Jr.
April 18: First day of National Park Week
August 25: National Park Service Birthday
September 26: National Public Lands Day
November 11: Veterans Day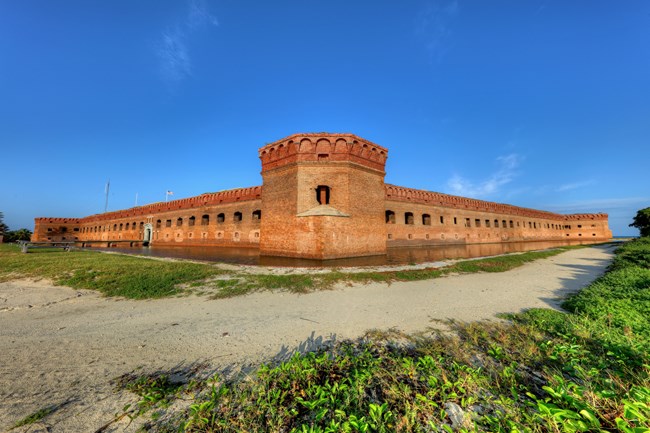 Camping Fees
The nightly fee of $15 per camping site is collected through a self-service fee area that is located in the campground. Under 16 are free. A 50% discount applies to holders of the Golden Age or Golden Access Pass. Group camping is a nightly fee of $30 per camping site.


Academic Fee Waivers
All accredited educational and scientific institutions are eligible to receive free entrance to the park. Bringing your classroom to the park can present many unique learning opportunities and novel ways for your students to advance their studies.

The Federal Lands Recreation Enhancement Act (FLREA), Public Law 108-447, provides the National Park Service statutory authority to allow "outings conducted for non-commercial educational purposes by schools or bona fide academic institutions" to obtain a waiver of park entrance fees. Commercial enterprises are not eligible for fee waivers, but school groups using a commercial vehicle for transportation only may apply for a fee waiver.
The entrance fee waiver does not entitle groups to any special ranger presentations. Organizations that are generally considered service, civic, or fraternal (e.g. Scouting, Rotary, faith-based organizations, clubs, etc.) do NOT qualify for the academic fee waiver unless they meet the requirements. Fee waivers do not apply to camping or permit fees. Groups that do not qualify for an educational fee waiver will be charged the appropriate entrance fee and may be considered as a non-commercial organized group.

Academic Fee Waiver Application

Note: Applications must be submitted here to the Special Use Permit Office, two weeks prior to the anticipated date of visit.

Last updated: June 10, 2020