News Release
Dry Tortugas National Park begins a $4.5 million restoration of the Tortugas Harbor Lighthouse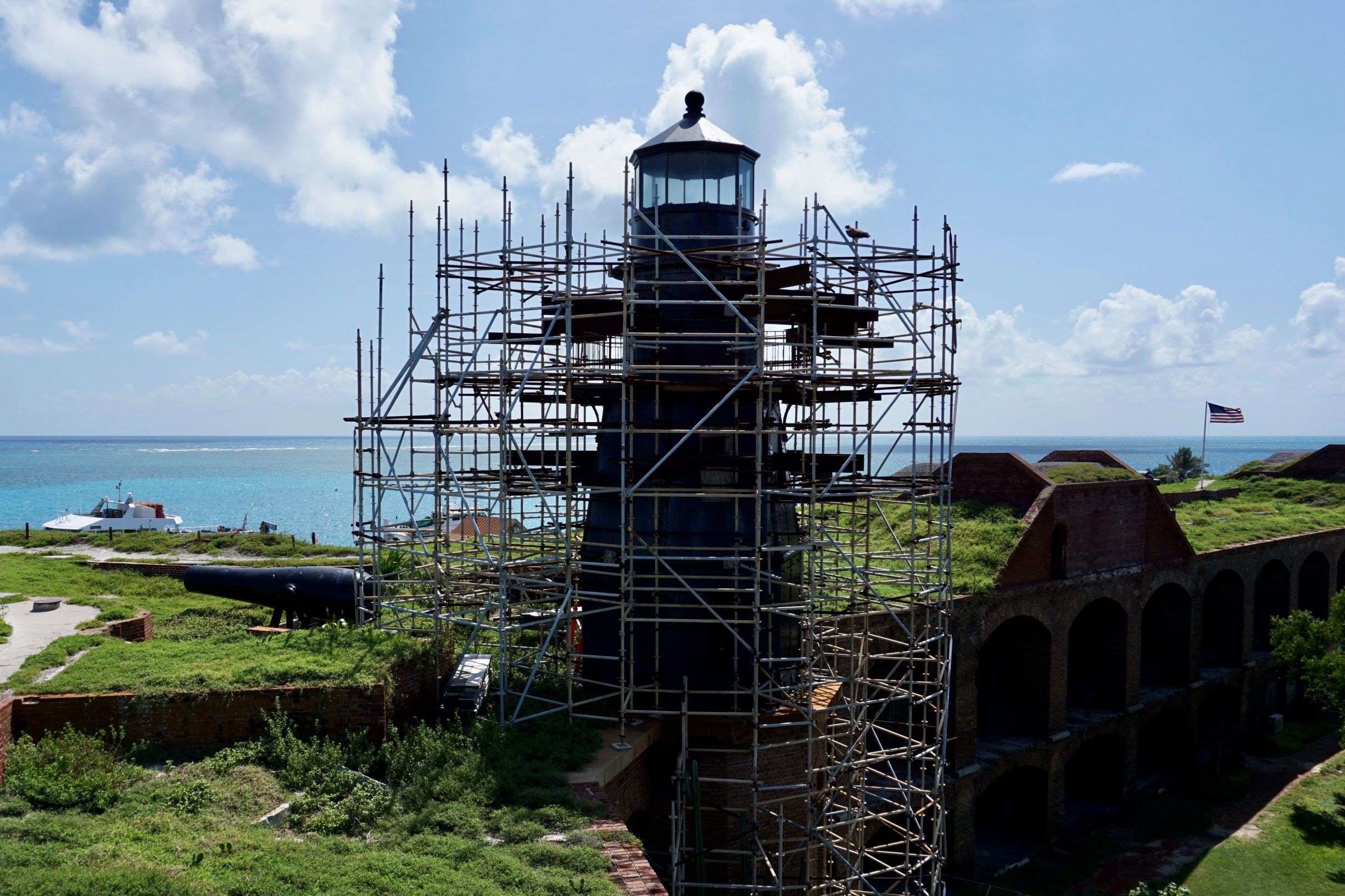 News Release Date:
October 21, 2020
Contact: Park information, 305-242-7700
Contact: Media Contacts, 786-610-8023
KEY WEST, Fla. – The 144-year old Tortugas Harbor Lighthouse on historic Fort Jefferson is about to get a facelift. On October 19, Dry Tortugas National Park kicked off the $4.5 million project to restore and preserve the deteriorating lighthouse for the next 100-plus years.

"The Tortugas Harbor Lighthouse is an iconic symbol of Dry Tortugas National Park. While partial repairs to the lighthouse have occurred over the past 40 years, it has never received this kind of comprehensive preservation," said South Florida Parks and Preserve Superintendent Pedro Ramos. "The National Park Service is committed to preserving this important piece of our American story."

The iron-plated lighthouse has been exposed to the elements and the effects of salty ocean air since its construction in 1876. Over time, the iron has corroded leading to significant deterioration in many areas, particularly around its base.

"The Preserve Tortugas Harbor Lighthouse project will use money generated from park entrance fees to ensure that future generations will be able to experience this part of our national heritage," said Park Manager Glenn Simpson. "The National Park Service has overseen decades of various repairs, including stabilizing and strengthening, and we're excited to finally see this comprehensive restoration work being done."

Follow the Preserve Tortugas Harbor Lighthouse Project
The three-phase Preserve Tortugas Harbor Lighthouse Project is expected to take about a year and visitors will be able to watch the first phase over the coming month.
Phase I: A restoration crew from Stone and Lime., Inc. will disassemble the 37-foot iron lighthouse structure piece-by-piece and transport the components from Garden Key to mainland Florida.

Phase II: Metal conservation and repair of the lighthouse structure at the conservation facilities of subcontractor Robinson Iron in Alexander City, Ala.

Phase III: Reassembly of the lighthouse in its original location. Subcontractor Jablonski Building Conservation will oversee the historic preservation requirements of the project.
Located at the meeting point of the Atlantic Ocean, Gulf of Mexico and the Caribbean Sea, the Dry Tortugas have a rich maritime heritage. Shallow sand banks and coral reefs made nautical aids to navigation, like lighthouses, critical for safe passage around the islands. Even so, many ships succumbed to these tricky waters and contributed to the large concentration of shipwrecks in the park. Although deactivated in 1921, the Tortugas Harbor Lighthouse and other historical aids to navigation are important to telling the histories of places like Dry Tortugas National Park.

To learn more about the Tortugas Harbor Lighthouse see:
https://www.nps.gov/drto/learn/historyculture/lighthouses.htm
.
Last updated: October 21, 2020