Getting Around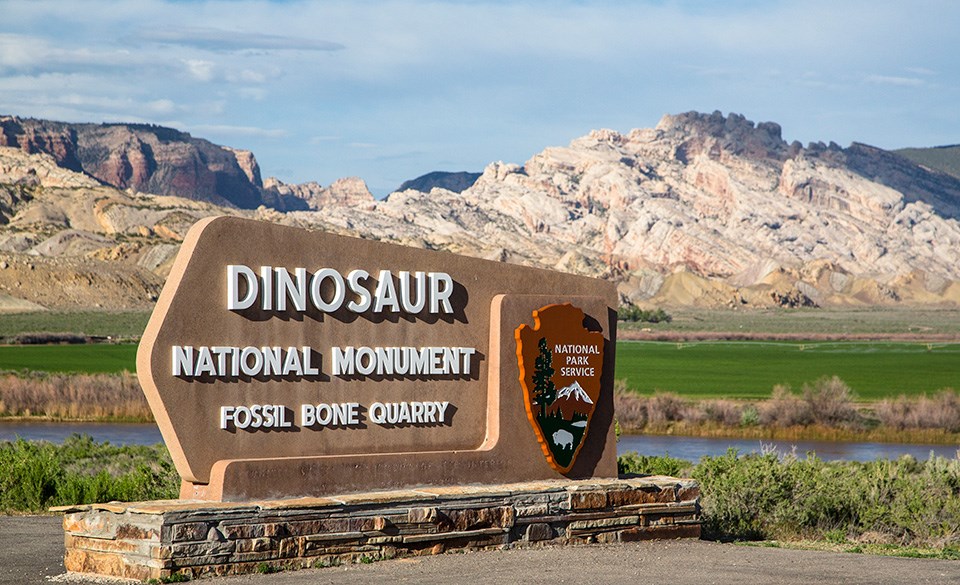 Public Transportation
Though there is no public transportation within the monument, Greyhound Bus Lines operates service between Denver and Salt Lake City which makes stops in Dinosaur, Colorado and Vernal, Utah. Drivers will stop in Jensen, Utah to unload passengers if requested.
Daily scheduled air service is available to the Vernal Airport (VEL). Rental cars are available at the airport and from other locations in Vernal.
For private river runners or backcountry hikers, vehicle and passenger shuttle service is available from Wilkins Bus lines (435) 789-2476 and River Runners Transport (800) 930-7238.
Driving Around the Monument
You can access links here to find out the latest information on weather and road conditions including road construction updates.
There are four paved roads in the park. All other roads in the park are dirt/clay. These roads are impassable when wet. Be prepared for remote driving conditions. Travel with extra water, food and keep your gas tank above half full. Cell phone reception is spotty in many areas of the monument. Four-wheel drive is not required, but is useful on steep unpaved roads. Light rain often makes dirt roads impassable, even with four-wheel drive.
Limited services are available in Jensen, Utah and Dinosaur, Colorado – the towns closest to the Monument visitor centers. More services are available in Vernal, Utah, Rangely, Colorado, and Craig, Colorado.
Contact the park for more information by calling (435) 781-7700 to check on road conditions before you travel.
---
Paved Monument Roads
Utah 149 enters the park from Highway 40 in Jensen, Utah. This entrance road brings you to the Quarry Visitor Center, Split Mountain boat launch, Split Mountain Campground, Green River Campground, and the Tour of the Tilted Rocks self-guided auto tour.
Harpers Corner Road enters the park from Highway 40, 2 miles (3 km) east of Dinosaur, Colorado. The Canyon Visitor Center is at the corner of Highway 40 and Harpers Corner Road. This entrance road brings you to the canyon overlooks along the Harpers Corner Auto Tour, a self-guided auto drive, and a 2 mile (3 km) round-trip scenic hike to Harpers Corner. Harpers Corner Road closes in the winter due to snow.
Jones Hole Road ends at the U.S. Fish and Wildlife Service's fish hatchery. A four-mile (one way) scenic hiking trail begins at the hatchery parking area and takes you to the Green River in Whirlpool Canyon
Deerlodge Park Road brings you to the launch site for the Yampa River and Deerlodge Campground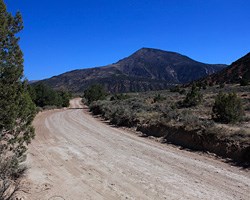 Dirt Roads
ATVs/ORVs/UTVs/Recreational Off-Road Vehicles or Bikes
Dinosaur National Monument is closed to the use of all types of all-terrain and off-road vehicles. The use of all-terrain vehicles (ATVs), off highway vehicles (OHVs), utility terrain vehicles (UTVs), motorized vessels and any other type of motorized conveyance manufactured for recreational, non-highway, off-road or all terrain travel, including those licensed by a state for street use, within monument boundaries is prohibited. The prohibition includes any all-terrain type I or type II vehicles as defined by Utah State Code Annotated 41-22-2 and any vehicles defined by Colorado revised statute 33-14.5101. The only exceptions are on a 0.65 mile section of Harpers Corner Road between the two Moffat County Road 16 intersections, from the monument/BLM boundary on the Island Park Road to the BLM McKee Bench Road, and from the Rainbow Park boundary west to the first gate leading north. In these areas, travel is only allowed along established roads. No off-road travel is permitted in any area of the monument by any type of vehicle.


Last updated: November 30, 2021