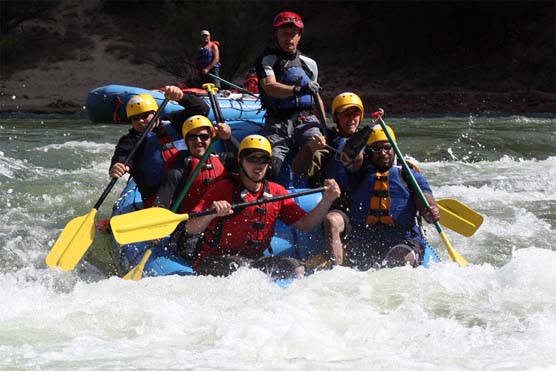 News Release Date:
October 7, 2009
Contact: Ginger Raborn, (970) 374-3000
The Wounded Warrior Project, through Adaptive Sports Association in Durango, Colorado and sponsored by Colorado Discover Ability, led a group of wounded veterans on a rafting trip through Lodore Canyon in Dinosaur National Monument this past week. This trip is part of the Wounded Warrior Projects' goal to help wounded soldiers with their rehabilitation by getting them involved with outdoor recreational activities. The National Park Service established a partnership with Wounded Warrior Project last year to provide enhanced programs and services for injured military members.
According to Martin Wiesiolek, the trip organizanizer, the trip went very well and everyone experienced all weather patterns in the span of four days. "On a second day we floated past a campsite with a large group of rafters," Wiesiolek said. "As we floated by, the group started cheering and singing for us. I was guiding a paddle boat with the veterans, and they all fell silent when they heard the cheers. A really tough guy, Jim, turned to me with tears in his eyes. It was hard to respond to the group's cheering with lumps in our throats, but eventually we all responded with a strong, military-style OORAH."
"National parks are places of refuge and inspiration. I am thrilled that this partnership will allow more veterans to be rejuvenated by the serenity, beauty, and recreational opportunities found in parks," stated Superintendent Mary Risser. "Last year, the Adaptive Sports Association taught several vets who had lost limbs how to kayak and took them on a trip through Grand Canyon. We're delighted that we were able to accommodate their trip through Lodore Canyon in Dinosaur."
Wounded Warrior Project is a non-profit organization whose mission is to honor and empower wounded warriors. It serves to raise awareness and enlist the public's aid for the needs of severely injured service men and women, to help severely injured service members aid and assist each other and to provide unique, direct programs and services to meet their needs. For more information, visit www.woundedwarriorproject.org.